Participating Restaurants
January's California Restaurant Month puts the star's amazing bounty on rich display. It makes feasting even more accessible than usual, with a legion of participating restaurants in cities and regions across the state offering deals and special menus at various times during the month.
Need to find a place to stay during your visit? Make sure to explore our hotel packages here. 
This year Visit Temecula Valley presents "The Best of The Best". Share your Restaurant Month Experience on Facebook, Instagram and Twitter. Use Hashtags: #VisitTemecula #DineTemecula and tag both @visittemecula and @visitcalifornia.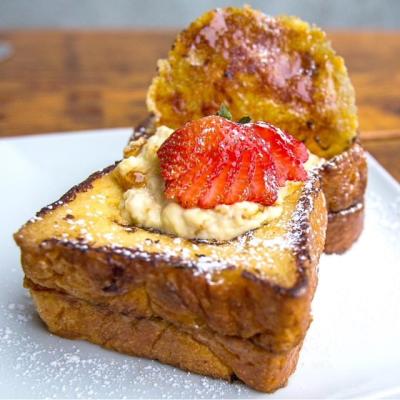 Creme Brulee French Toast
Fresh baked brioche french toast topped with creme brulee, cinnamon, powdered sugar and a carmelized sugar disk.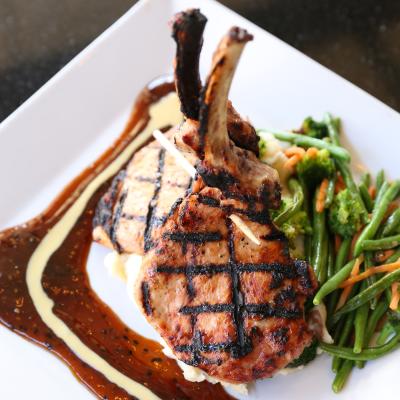 The Beer-Brined Chops
French-cut pork chops brined in Red Trolley Ale, with sautéed green beans, broccoli, firecracker sauce, and spicy mustard sauce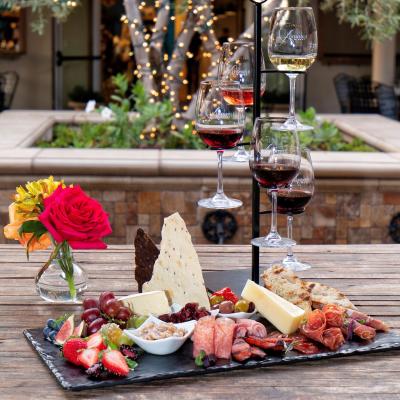 Charcuterie Board with Wine Flight
The "Best Charcuterie Board in Wine Country". Pairs perfectly with our Wine Flight. Perfect for two people!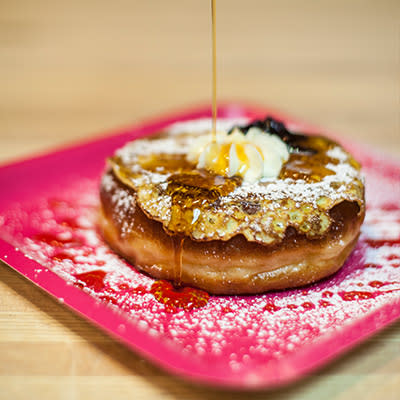 French Toast Donut
Raised cinnamon sugar donut turned into the best French toast you've ever had!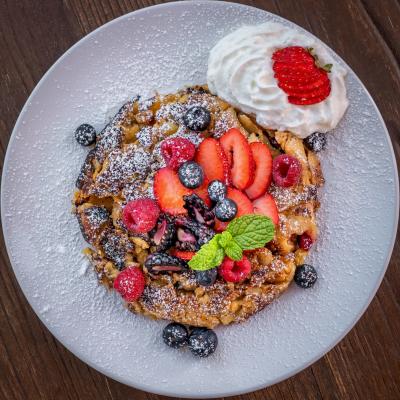 French Toast
Classic "Pains Perdus" mode, topped with berries and drizzled with syrup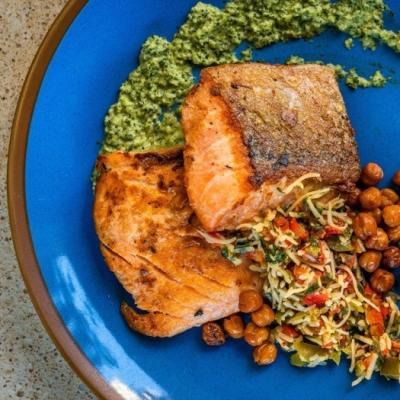 Mediterranenan Skuna Bay Salmon
Served with Crisp Chickpeas, Sorrel Pesto, and coconut Chimichurri. Available for lunch and dinner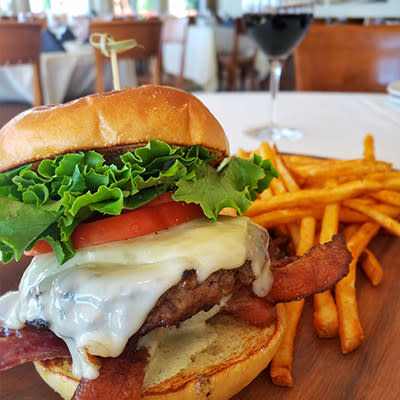 Peppercorn Ranch Burger
Black Angus Beef with Melted Monterrey Jack Cheese, Cherrywood Bacon, Lettuce, Tomato, and Green Peppercorn Ranch Aioli.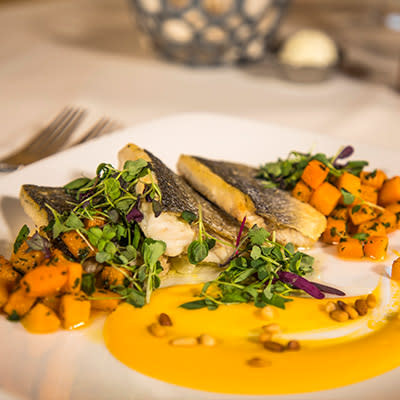 Seared Mediterranean Sea Bass
Executive Chef Loren Lawe's Seared Mediterranean Sea Bass is packed with vibrant flavor and is a crowd favorite at The Vineyard Rose Restaurant at South Coast Winery. It is prepared with roasted butternut, braised leeks, toasted pine nut and brown butter.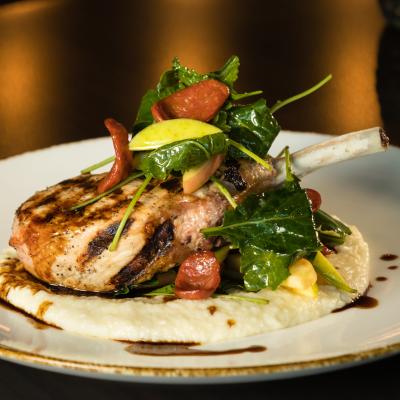 Kurobuta Pork Chop
Parmesan Cheese Polenta, Baby Kale with Spanish Chorizo & Apple Salad
Lamb Lollipops
Garlic and rosemary crusted lamb with Provençal pistou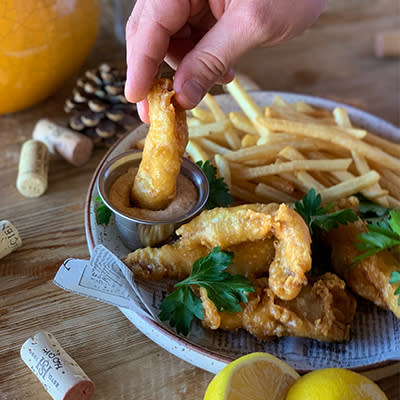 Fish & Chips
Enjoy our fan favorite, Fish & Chips at Cork | Fire Kitchen! Our mahi mahi is battered to perfection, and served with salt & malt vinegar fries with a side of our house-made secret sauce for dipping!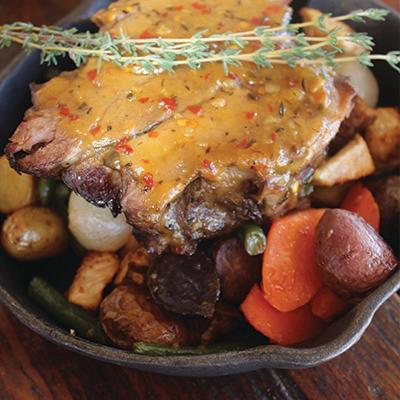 Smoked Wild Boar
Wild boar shoulder, baby potatoes, roasted carrots, green beans, celery root, pearl onions with a honey thyme sauce.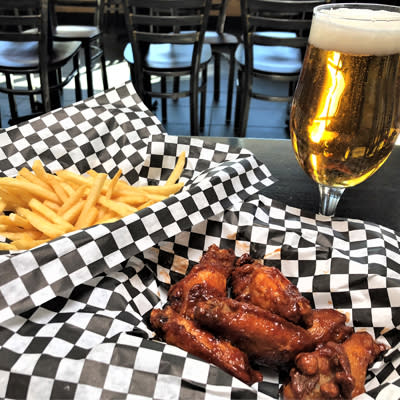 Premium bone-in or boneless chicken wings
Premium bone-in or boneless chicken wings with choice of Red Hot Buffalo, Mango Habanero, BBQ or Sweet Teriyaki and Chili sauce, an order of premium French fries or sweet potato fries and a fountain drink. Or enjoy a fresh craft beer for an additional price.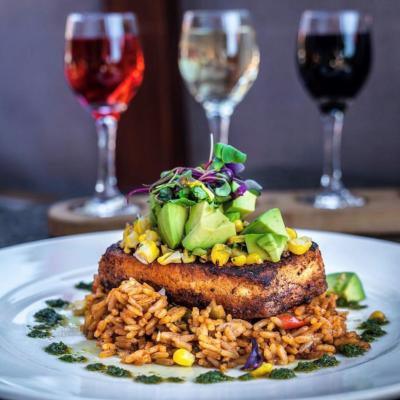 Chipotle Blackened Swordfish
Served on the top of chipotle dirty rice, corn and avocado relish. Harpooned Swordfish caught by our own fishing boat Pilikia. Enjoy with the Temecula Wine Flight.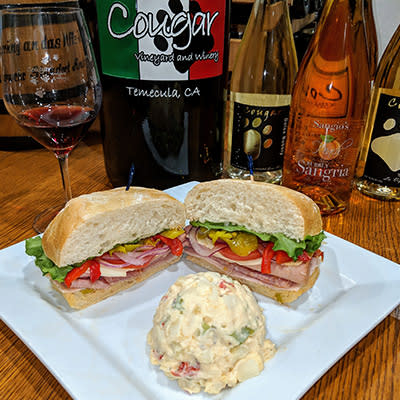 Classic Italian
Deluxe ham, Genoa salami, hot Capicola, Mortadella, provolone, leaf lettuce, Roma tomato, onion, roasted red pepper, Pepperoncini and deli or creamy Italian dressing. Comes with choice of potato salad, pasta salad, coleslaw or grapes.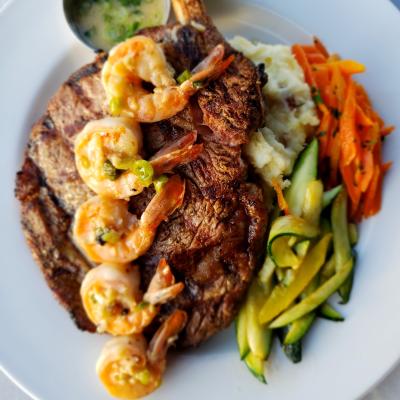 Surf n' Turf
16 oz. bone-in Rib-eye, topped with Tiger Shrimp sauteed in garlic and butter.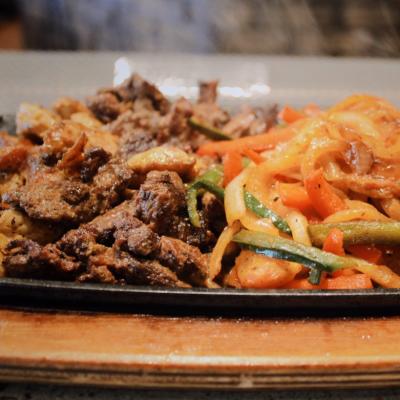 50/50 Fajitas for 2
(Tex Mex) Boneless Chicken Thigh Meat and Choice Sirloin Steak, Achiote Marinade, Chipotle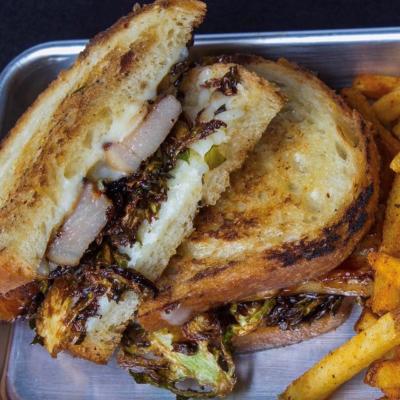 Pork Belly Melt
house smoked pork belly, crispy Brussels sprouts, gruyere and mozzarella cheeses, fig balsamic on butter toasted sourdough bread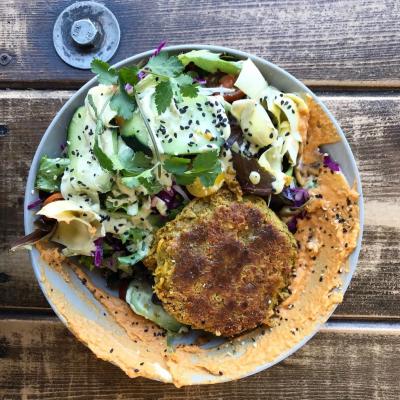 E.A.T. Bowls
Extraordinary Artisan Table, Temecula Valley's Chamption Culinary Award winner presents: E.A.T. Bowls... for plant based and omnivore eaters! Enjoy Organic chicken, paleo grass-fed beef, or roasted yam + tahini (pictured).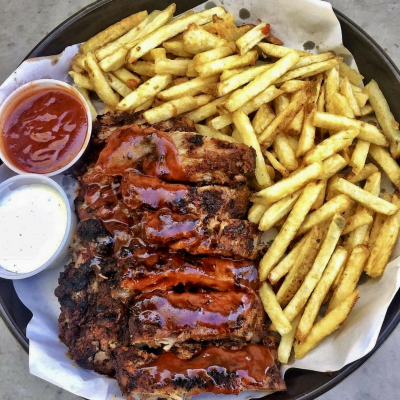 Baby Back Ribs
The Best of the Pork Ribs, Leanest & Finest Quality. Our Award Winning Ribs are Fall Off the Bone Delicious, Dry Rubbed with Texas Lil's Housemade Seasonings, Slow Smoked, Basted with Lil's BBQ Sauce then Grilled until a Caramelized Finish! Includes your Choice of 2 Sidekicks and Fresh Baked Cornbread Muffin and Honey Butter.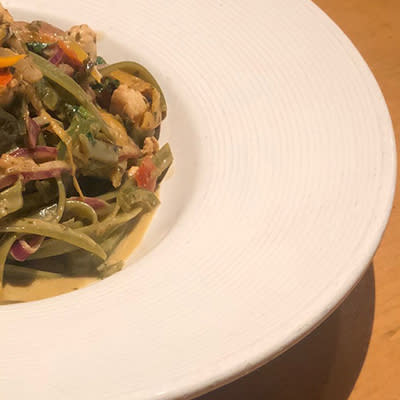 Chicken Tequila Fettucine
A creamy jalapeno lime sauce with spinach fettuccine, red onions, bell peppers, fresh cilantro and grilled chicken.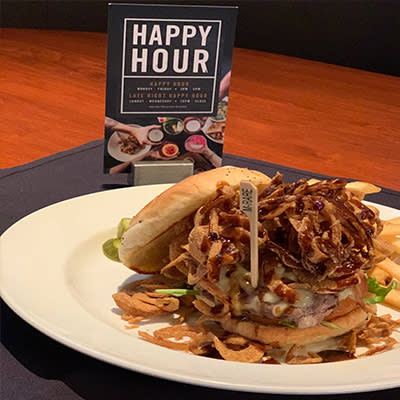 Filet and White Cheddar Melt
Beef tenderloin with crispy onion strings, house made steak sauce, arugula, tomato, melted white cheddar and roasted garlic on an onion poppy seed bun.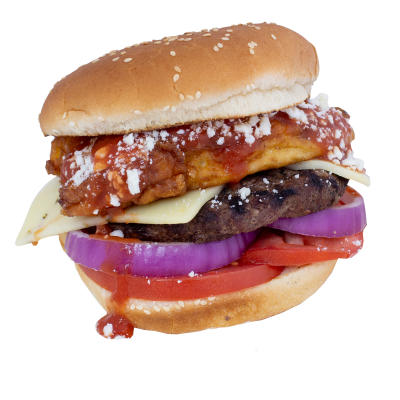 Chile Relleno Burger
Parmesan Cheese Polenta, Baby Kale with Spanish Chorizo & Apple Salad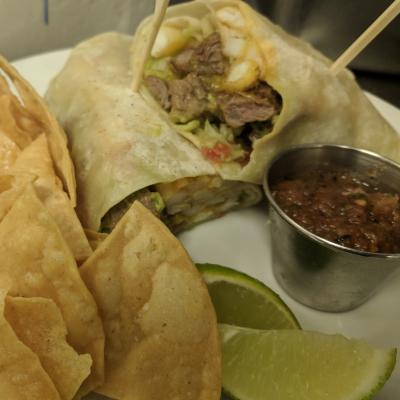 Ballast Point
California Kolsch Steak Burrito
Santa Maria dry rubbed Tri-Tip, guacamole, pico de gallo, cheddar cheese, fries
*served with chips and salsa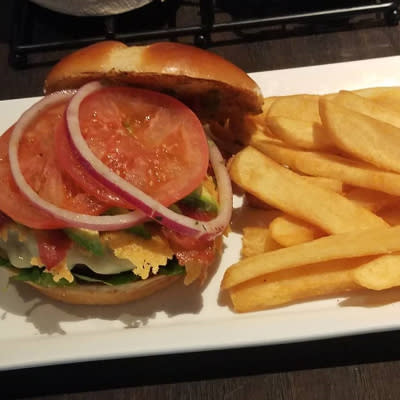 Mad Love Burger
Red Robin's Mad Love Burger features our half pound Finest Black Angus patty topped with melted Swiss and Provolone cheese, a Cheddar-Parmesan crisp, candied bacon, avocado and citrus marinated onions and tomatoes, all on a bed of shredded romaine on a toasted brioche bun with jalapeno relish.