50th Anniversary Commemorative Wine - Now Available 
June 29th, 2018 
The Temecula Valley Winegrowers Association (TVWA) today announced the launch of their 50th Anniversary commemorative wine, a blend of Temecula Valley Syrah, Grenache and Mourvèdre produced and bottled in Temecula Valley by Temecula Valley winemakers.
The collaborative effort was led by TVWA's enology committee, made up of Jim Hart of Hart Winery, Phil Baily of Baily Winery and Jon McPherson of South Coast Winery and Carter Estate Winery. The team presented numerous possibilities for consideration, including a Bordeaux blend, a "Super Tuscan"-style blend and an offbeat concoction made up of Portuguese and other classic international grapes, before landing on the final product, a blend of 50% Syrah, 26% Grenache and 24% Mourvèdre.
"Temecula Valley's Mediterranean climate makes it well-suited to grow a lot of different grape varieties, which made this a particularly interesting exercise," said Jon McPherson, Master Winemaker at South Coast Winery and Carter Estate. "Making this wine allowed us to dig deeper on who we are as a region. What we concluded is that this diversity of offerings is what makes us unique. The 50th Anniversary wine is only one example of a blend of grapes that truly shine in Temecula Valley. The possibilities were actually endless."
Located just 22 miles inland from the Pacific Ocean, Temecula Valley is bordered by valleys and coastal mountains ranging from 2,000 to 11,000 feet elevation. This creates a low-pressure area characterized by warm days, afternoon breezes and cool nights. Marine air is pulled into the Valley through two low-elevation points in the mountains – the Rainbow Gap and the Temecula Gorge — which allows wine grapes to develop full ripeness while maintaining desirable acidity levels.
"This wine is the perfect representation of our 50th Anniversary theme – the People, Passion and Perseverance of Temecula Valley Southern California Wine Country," said Krista Chaich, TVWA Executive Director. "Our talented winemakers came together to lend their expertise and deep commitment to this Valley in order to craft a wine that is not just delicious now, but that will stand the test of time…as our region has done over the past 50 years and will continue to do for the next 50. We cannot wait to share this wine with consumers."
Temecula Valley grows over two dozen grape varieties. In addition to the Syrah, Grenache and Mourvèdre that make up the 50th Anniversary wine, those that especially thrive include common Italian varieties like Sangiovese, Montepulciano, Vermentino and Arneis; classic Bordelaise grapes like Cabernet Franc, Cabernet Sauvignon, Merlot and Malbec; other Rhône Varieties like Viognier and Grenache Blanc; Spanish grapes like Tempranillo; and offbeat varieties like the Portuguese Touriga Nacional and Southern Italian Falanghina.
The 50th Anniversary wine will be available for purchase at special events and through Hart Winery. The wine will retail for $50 per 750 ml bottle. Special etched magnums will also be available for purchase.  There are limited quantities available!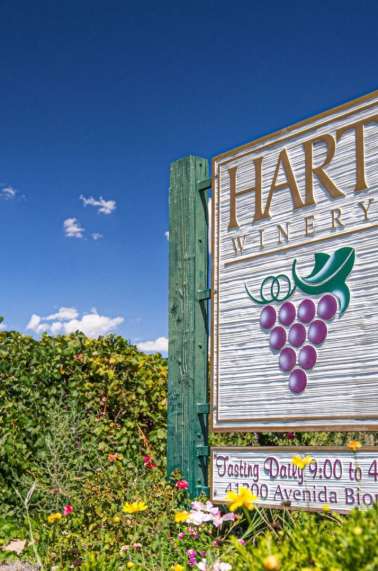 Hart Winery
Founded in 1980, family owned and operated Hart Winery is one of Temecula Valley's oldest wineries,...