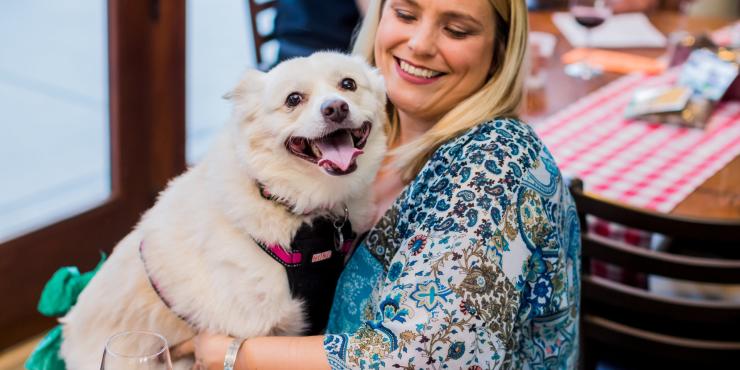 Traveling with Pets: Five Tips to Make Your Trip Fun and Safe 
If you have plans to travel with a pet or service animal, you're not alone! New research indicates that the majority (54 percent) of dog and cat owners plan to travel with their pet in the next year. As a result, hotels and restaurants are re-evaluating policies and welcoming travelers with four-legged friends. 

Here in the Temecula Valley, we love pets! There are several pet-friendly hotels and resorts that offer services and amenities for furry friends including luxurious pet beds, in-room treats, and even room service and restaurant menus. Many merchants in Old Town and throughout the greater Temecula Valley offer water bowls and treats. Here's a list of pet-friendly places in Temecula: 
OLD TOWN TEMECULA
1909*
TEMECULA VALLEY WINE COUNTRY
Carol's Restaurant at Baily Winery 
South Coast Winery Resort & Spa 
​BREWERIES
​PECHANGA RESORT CASINO
PROMENADE TEMECULA 
AROUND TOWN
*Dog menu available. 

Here are four tips to help make traveling with pets a little easier: 
Create a packing list. Before you leave, make a list with every item your pet will need: safety seat, travel crate or harness, bowls, food, medications, water, toys, leash, poop bags, pet bed, etc. Keep all pet items in one backpack or tote for easy access.  
Check pet policies. For hotels, ask for a room on ground level and find out about extra pet fees.  
Call ahead when booking meals or experiences. If you plan to visit a restaurant or winery, contact the business first and ask about pet policies. Some businesses cannot allow pets because of insurance issues. BringFido and DogTrekker offer information and tips, as well. 
Research Pet/Doggy Day Care at your destination. Most hotels and Short-Term Rentals do not allow pets left alone in the room. With day care, you can drop off your pet and enjoy yourself without worrying about whether they are distressed or barking and disturbing other guests. 
If you're looking for assistance as you plan a trip to Temecula Valley with your pet, go here for more information. We look forward to seeing you and your buddy in Southern California Wine Country!