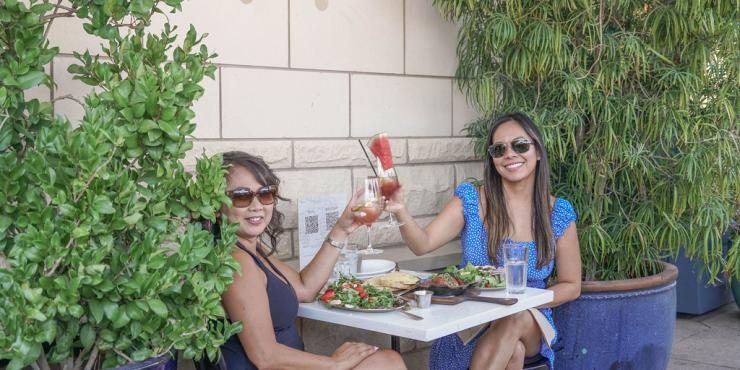 Visit Temecula Valley is supporting California Restaurant Association Foundation (CRAF) inaugural 'The Grateful Table® Dine Out,' a monthlong event in November, to benefit California's struggling restaurant community and raise funds for CRAF's Restaurants Care® program which provides restaurant workers facing hardships with relief grants for basic living needs. Visit Temecula Valley encourages consumers to "dine out to help out" as much as possible this November in gratitude to our neighborhood restaurants.
Whether it's date night, a celebration, or #Takeout Tuesday, there's always a good reason to patronize a local restaurant.  Restaurants are counting on the public to keep the lights on through the COVID-19 pandemic.
Whether dining al fresco or takeout, Temecula Valley has a plethora of great restaurants to choose from, including farm-to-table, bistros, pubs, and cafes serving Italian, Persian, Mexican, Asian, French, and American cuisine. Find a listing of these quality restaurants at VisitTemeculaValley.com.
A few of the newest restaurants that opened this year include Bolero Restaurante, Small Barn, and Sugarplum Zoo Bistro Café. Bolero Restaurante is located at Bolero at Europa Village in Temecula Valley Wine Country. They offer Spanish inspired tapas and ambiance. Their wines pair beautifully with the menu. Also in wine country is Sugarplum Zoo Bistro Café. The zoo has been around for years, but a place to dine is new to the attraction. It's great for enjoying a light lunch while watching the animals. Small Barn is located in Old Town Temecula. Offering an ingredients-driven menu, this modern bistro showcases the bounty of ingredients produced regionally.
In addition to encouraging people to dine out during the month of November, Visit Temecula Valley will be showcasing chefs, winemakers, and brewers at VisitTemeculaValley.com and on their Instagram @visittemecula.
To find out about more Temecula Valley restaurants go to https://www.visittemeculavalley.com/restaurants/. For more information about how restaurants can get involved in the campaign, please visit The Grateful Table Dine Out.
About Temecula Valley and Visit Temecula Valley
Temecula Valley is open and welcomes local visitors. The businesses have strict cleaning protocols to ensure everyone's safety and comfort because they consider the health of their employees and guests top priority. They have met and often succeeded county and state requirements. Face masks are strongly recommended when visiting and please be kind to the workers, they are doing everything they can to make the experience an enjoyable one.
Temecula Valley is a popular Southern California destination that includes Temecula Valley Wine Country, Old Town Temecula, and Pechanga Resort Casino. In 2019, Wine Enthusiast named it a 10 Best Wine Travel Destination. 
Visit Temecula Valley is the region's official tourism marketing organization and resource for visitors. For visitor information and assistance, please call (888) 363-2852 or go to VisitTemeculaValley.com. 
About the California Restaurant Association Foundation (CRAF):
California is home to more than 90,000 eating and drinking places that ring up more than $72 billion in sales and employ more than 1.6 million workers, making restaurants an indisputable driving force in the state's economy. The California Restaurant Association Foundation is a non-profit that empowers and invests in California's restaurant workforce. Founded in 1981, CRAF supports the restaurant community through emergency assistance grants for restaurant workers facing a hardship, job and life skills training for 13,500 high school students each year, and scholarships. For more information visit www.calrestfoundation.org.