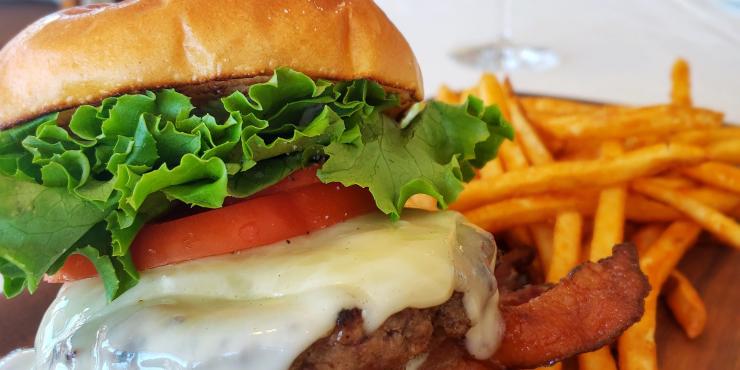 Temecula Valley Southern California Wine Country will celebrate Temecula Valley Restaurant Month this coming January with specialty burgers made from local farm-fresh ingredients at restaurants in Old Town Temecula, Temecula Valley Wine Country, Pechanga Resort & Casino, Promenade Temecula, and throughout the destination. The month-long culinary event takes place at the start of the new year, from January 1 to January 31, 2020. For the event, local chefs have been invited to participate in a signature burgers theme, a popular meal option for travelers.
Temecula Valley Restaurant Month is an extension of California Restaurant Month; Visit Temecula Valley and the Temecula Valley Chamber of Commerce have proudly participated in the statewide event for the past ten years.
Visitors can taste winning burgers from the recent Battle of the Burgers competition.  Top winners include Mad Madeline's "Grill Triple 333", Devilicious Eatery "The Craft Burger," and Crush & Brew "Brie Burger. "
Temecula Valley Southern California Wine Country is uniquely situated for premier culinary experiences from fine dining to gastro pubs to artisan farm-to-table quick-service restaurants to ethnic specialties. The agricultural surroundings of the region give restaurants convenient access to locally-sourced pork, beef, vegetables, citrus, apples, berries, cheese, olive oil, craft beer, wine – it's a chef's dream. Visitors are attracted to the fresh, real food found at Temecula Valley Southern California Wine Country restaurants and this year's focus on fresh and local mouthwatering hamburgers will be something every guest will want to sink their teeth into.
During Restaurant Month, visitors can immerse themselves in all things culinary throughout Temecula Valley, such as farmers' markets, special chef events, Restaurant Month specialty burgers, and winery and brewery tours. Temecula Valley's wealth of fresh, local ingredients paired with innovative chefs, farmers and culinary artisans means visitors can enjoy cuisine as diverse and robust as the destination.
The month-long event will give visitors an excellent chance to explore all there is to see and do in Temecula Valley Southern California Wine Country. Weekday visits offer the best value to guests as visitors will receive exceptional hotel rates on overnight accommodations, personalized attention, and even conversations with local chefs, winemakers, and brew masters.
Visitors can follow along with the culinary adventure on social media: #DineTemecula will feature updates throughout the month-long campaign. "Temecula Taste Bud," the wildly popular video restaurant reviewer, will again be joining in the fun. Follow his taste buds on Visit Temecula's YouTube channel to get a sampling of the best Temecula Valley Restaurant Month has to offer.
To learn about all the participating restaurants, special events and activities, and Temecula Valley Restaurant Month's specialty burgers offered throughout January 2020, please go to VisitTemeculaValley.com.
About Visit Temecula Valley
Laid back, picturesque Temecula Valley Southern California Wine Country welcomes nearly three million visitors each year. It is a year-round vacation destination, located 60 minutes from San Diego, Orange County, and Palm Springs; 90 minutes from Los Angeles.
Temecula Valley Wine Country is widely recognized for its scenic vineyards, award-winning wines, and experiential wineries. The popular boutique destination includes the Temecula Valley A.V.A. (American Viticulture Area) as well as historic Old Town Temecula, and Pechanga Resort Casino. It also was named as a 2019 Wine Enthusiast 10 Best Wine Travel Destination.
Visit Temecula Valley is the region's official tourism marketing organization and resource for visitors. The Visitors Center is located in Old Town Temecula. For visitor information and assistance, please call (888) 363-2852 or go to VisitTemeculaValley.com.