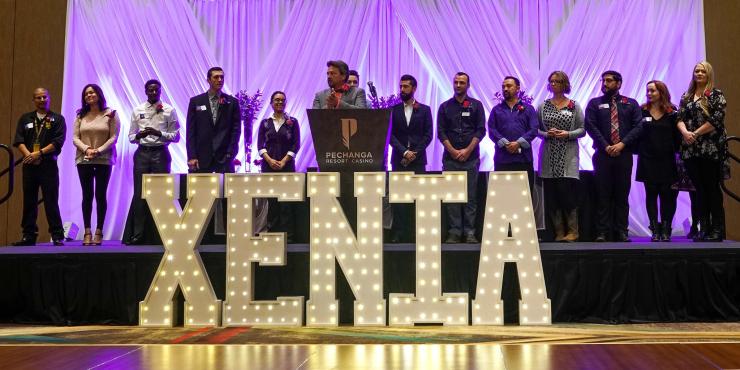 More than two hundred and fifty Visit Temecula Valley members, dignitaries, and partnership organization representatives gathered recently for the Visit Temecula Valley annual meeting and Xenia Hospitality Awards presentation. Awards were given in six categories to outstanding tourism professionals, business owners, and their employees. The event was held at the new Pechanga Resort & Casino Summit Ballroom; Mia, midday on-air personality on 101.3, The Mix/KATY-FM, was emcee.
Social Media Award
For the greatest impact promoting Temecula Valley and successfully attracting visitors to Temecula Valley Southern California Wine Country through social media, the Social Media Award winner was Avensole Winery. Avensole's social media communication and promotion have helped ensure Temecula Valley Wine Country is on the radar of tourists who seek an exceptional and unique travel destination experience. Avensole's high quality content has been shared by accounts with high visibility and followers including Visit Temecula Valley, Visit California, DreamEater, YELP, luxury travel writers, and well-established publications like the Los Angeles Times.
Champion Culinary Award
The Champion Culinary Award recipient was Leah Di Bernardo, Chef/Owner of E.A.T. Marketplace. For over two decades, Chef Leah has been a regional advocate, working with the California Restaurant Association, the Temecula Valley Chamber of Commerce, and California State Government. Bringing a national and international spotlight on the Temecula Valley and Old Town Temecula, Chef Leah and E.A.T. have been featured in national publications such as Sunset magazine, Wine Advocate, Huffington Post, and the New York Times.
Ambassador Award
Winner of the Ambassador Award was Scott Wilson of Pechanga Resort & Casino. Wilson has generated significant economic impact for the region by creating new community partnerships between Pechanga Resort & Casino, Temecula Valley wineries, hot air balloon companies, wine tour operators, and transportation companies to develop tour and travel packages specifically for a new international clientele that has not traditionally visited Temecula Valley mid-week. Wilson has brought hundreds of new meeting planners to Temecula resulting in numerous new conventions including the Teneo Client Summit for September 2018. The event is a major coup for Temecula and represents millions of dollars of future business.
Cilurzo Award for Winery of the Year
For a wonderful history of winemaking, focus on providing high-quality wine country experiences, and bringing recognition to Temecula Valley Southern California Wine Country, the recipient of the Cilurzo Award for Winery of the Year was Falkner Winery. Falkner wines have earned gold medals from various California wine competitions and several 90-point ratings from Wine Enthusiast Magazine. Pinnacle, the Falkner winery restaurant, has a 96% recommendation level with Open Table and received a "Best Restaurant" award consecutively for ten years from the readers of Inland Empire Magazine. As venue for more than one hundred weddings a year, Falkner Winery events fill numerous room nights with local Temecula Valley lodging partners. The winery also recently received the coveted "Hall of Fame" designation from "The Knot" wedding website.
Hospitality Award
For demonstrating outstanding hospitality to visitors to Temecula, and a genuine, team spirit in promoting travel, tourism, and the growth of Temecula Valley, the Hospitality Award winner was Pechanga Resort & Casino. Never wavering in their quest for exceptional quality service, Pechanga is a world-class resort destination and a strong and faithful partner to the City of Temecula. Consistently garnering numerous awards and the attention of regional and international media, Pechanga has helped establish Temecula Valley Southern California Wine Country as a complete and refined destination experience. With the extensive efforts of the entire Pechanga team, Pechanga has attracted hundreds of thousands of visitors to Temecula Valley and continually introduces many, new guests to the Temecula region. The recent addition of a stand-alone, luxury two-story spa; a new, AAA Four Diamond tower of beautifully appointed and spacious guest rooms and suites; and a 4.5 acre, iconic resort-style pool complex landscape with four pools and an outdoor concert and event lawn furthers Pechanga's investment in Temecula and superlative reputation for excellence.
Welty Award for Tourism Professional of the Year
In February, the Visit Temecula Valley Welty Award for Tourism Professional of the Year was presented at the Temecula Valley Chamber of Commerce Annual Gala. The recipient was Melody Brunsting of Mel's AdWorks. Brunsting has greatly contributed to the region's growth, through her involvement in various tourism-building initiatives that have helped brand the Temecula Valley as a premier wine, food, lodging, gaming, recreation, and event destination. Brunsting was a founding member of the Temecula Chamber of Commerce Tourism Committee and in 1998, became one of the first members of the Temecula Valley Convention and Visitors Bureau (later, Visit Temecula Valley). For the past 13 years, Brunsting has been part of the Visit Temecula Valley Executive Board and a member of the Board of Directors; she has also committed her time and expertise to the Old Town Temecula Association. Brunsting is responsible for the marketing, public relations, and media buys for the Temecula Valley Balloon and Wine Festival; her work for the festival has repeatedly garnered high acclaim with major, event-industry awards.
Spotlight on Service Awards
Rounding out the March, Visit Temecula Valley event was the presentation of Spotlight on Service Awards. Spotlight on Service shines special recognition on exceptional, authentic, warm, and front line Temecula hospitality employees. Recipients were Donald Bryson (Baily's), Joseph Caramazza, (ADT Security), Jaime Castellanos, (Bluewater Grill), Jacqlyne Espinola (Promenade Temecula), Jose Gomez (Truly Nolen Pest Control), Chelsea James (Spuntino Pizzeria & Delicatessen), Sheilahn Kasim (Espadin), Desiree Yankauskas (DownTown PUBlic), Sam Martinez (Annie's Cafe), Jordan McCann (Lazy Dog Restaurant & Bar), Lauren O'Neal (1909 Old Town Temecula), Massie Schamel (Wilson Creek Winery), Samantha Tait (Grapeline Wine Tours), Adolfo Tigerino (Promenade Temecula), Chloe Vanicek (Promenade Temecula), and Angela Vredenburg (The Goat & Vine).
Visit Temecula Valley Annual Report
Additionally, the event included the presentation of the Visit Temecula Valley Annual Report. Hotel lodging experienced the seventh consecutive year of revenue growth to + 6.9% year over year. Hotel occupancy growth continued to rise at + 2.8%; weekend sell-out for the year was 49 weekends. Meanwhile, visitor spending in Temecula Valley continued on an upward trend of + 2.3%. Ongoing VTV efforts continue to strengthen strategic partnerships with the City of Temecula, Pechanga Development Corporation, Riverside County, the Temecula Valley Winegrowers Association, and the Temecula Valley Chamber of Commerce. Visit Temecula Valley accomplishments also include the creation and launch of a new, responsive website, new videos, digital assets, and creative.
About Visit Temecula Valley
Visit Temecula Valley (VTV), a nonprofit 501c(6) organization funded by the Temecula Valley Tourism Business Improvement District, Pechanga Development Corporation, the City of Temecula, the Temecula Valley Wine Country Tourism Marketing District, and tourism-related businesses, is the destination sales and marketing organization in the Temecula Valley. VTV increase awareness of Temecula, stimulates Temecula Valley economic growth and tourism, and measures visitor spending in the Temecula Valley. VTV is online at www.VisitTemeculaValley.com. The Temecula Valley Visitors Center is located in Historic Old Town Temecula at Third Street and Mercedes. For membership information or visitor assistance, please call (888) 363-2852 or (951) 491-6085.
###