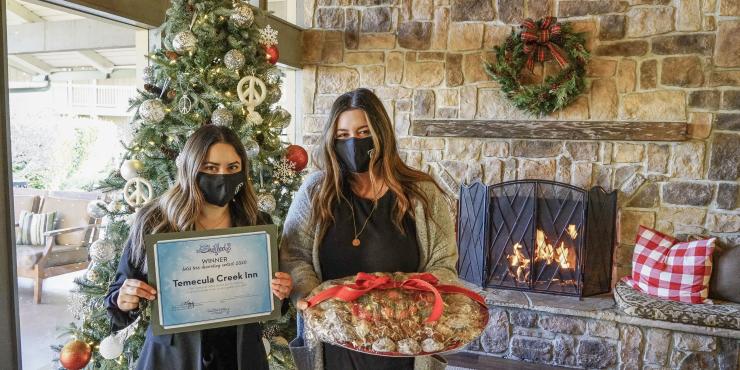 Visit Temecula Valley (VTV) held their annual holiday decorating contests to encourage local tourism businesses to create a festive atmosphere for travelers and employees this season. Categories were Best Decorated Tree in a hotel, the Best Decorated Winery, and VTV partnered with Old Town Temecula Association in sponsoring the best decorated Old Town business.
"Thank you to all the businesses that decorated. Everyone did a great job and definitely helped to spread holiday cheer," states Kimberly Adams, CEO/President of Visit Temecula Valley.
The winner of the Best Decorated Tree is Temecula Creek Inn. Their beautifully decorated tree incorporated VTV's theme "Find Your Peace." The tree is on display inside their hotel lobby through the month of December. Other entrees included Carter Estate Winery & Resort, Embassy Suites, Hampton Inn, Holiday Inn Express, Inn at Churon Winery, Quality Inn, South Coast Winery Resort & Spa, SpringHill Suites, and The New Inn. As a prize, Temecula Creek Inn will receive holiday treats to share with its staff and bragging rights.
The Best Decorated Winery winner is Peltzer Winery. Competing wineries were Avensole, Bolero, Callaway, Carter Estate, Churon, Europa Village, Lorimar, Monte De Oro, Oak Mountain, Peltzer, Ponte, Robert Renzoni, South Coast, Wiens, and Wilson Creek. The winning winery receives $500.
First Place for Old Town Temecula's Best Decorated Business goes to 1909, the Second Place winner is Mad Madeline's Grill, and Third Place is Truax Development. Contestants were 1909, Apparition Room, Au Savon de Provence, Baily's, Be Good, Bottega Italia, Devilicious, Mad Madeline's Grill, Old Town Pub & Grub, Small Barn, Stone Church Brewing, Texas Lil's Mesquite Grill, The Bank Plates & Pours, The Gardener's Cottage, and Truax Development. First place receives $500, second place $300, and third place $100.
This year, the entrees were judged on a volunteer basis by five destinations: Destination Irvine, Greater Palm Springs Convention & Visitors Bureau, Travel Costa Mesa, Visit Huntington Beach, and Visit Santa Barbara.
Drive through town to catch the holiday spirit and view these decorations, or see all the entrees online at VisitTemeculaValley.com/Temecula-Chilled.
ABOUT VISIT TEMECULA VALLEY  
Visit Temecula Valley is the region's official tourism marketing organization and resource for visitors. For visitor information and assistance, please call (888) 363-2852 or go to VisitTemeculaValley.com.