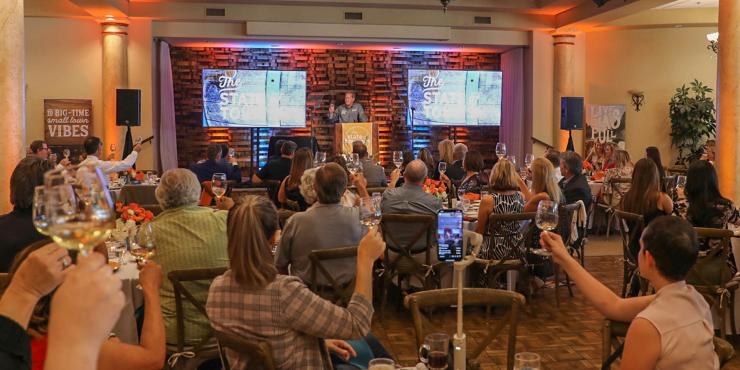 Visit Temecula Valley announced today its tourism impact report results for 2021. Prepared by Dean Runyan Associates, the report claims Temecula Valley welcomed approximately 2.4 million visitors in 2021. The total direct travel spending was $614 million, this represents an 18% increase over 2020. 
Travel to Temecula Valley in 2021 generated approximately 7,480 jobs, a 16.1% increase in travel-generated employment from the previous year. Direct travel-generated earnings experienced a gain of $46.8 million over the preceding year, a 20.9% increase. Tax receipts generated by travel spending were up 25.5% compared to 2020.  
There was substantial growth in the category of Accommodations which brought in $24.6 million more in travel spending in 2021 compared to 2020, an increase of 34.8%. Visitors who stayed in a hotel or motel spent $191.2 million in 2021, an increase of 6%, while visitors who stayed in Short Term Vacation Rentals spent $264.5 million, an increase of 17.3% compared to 2020. 
Retail was at $52.5 million in 2021 and $43.7 million in 2020. Travel to Temecula generated 7,450 jobs in 2021. Overall, travel industry employment grew by 15.6%. Top things to do when traveling include dining and shopping, illustrating that Temecula Valley continues to gain recognition for its world class wineries, restaurants and shops. 
Its convenient location has always been a significant factor to the high number of visitors. Temecula Valley is only one hour from most southern California major cities, and 90 minutes from Los Angles. The beautiful landscape, high-quality service, award-winning products, and unique offerings continue to entice visitors to return. 
"The latest economic impact numbers for the Temecula Valley tourism sector is proof as to how far we've come and that the sky is the limit for our beautiful region," says Visit Temecula Valley CEO and President Scott Wilson. "It paints a positive picture that tourism in our region has a positive and lucrative effect on the quality of life in Temecula Valley."  
Like the rest of southern California, Temecula Valley continues to climb out of the pandemic conditions, however, the latest data proves the wine region remains a highly sought after tourist destination. 
"Temecula Valley is fortunate in that our region has incredible opportunities for visitors to tap into adventure, relaxation, shopping, as well as excellent wine and food," said Visit Temecula Valley Chairman of the Board Bill Wilson. "Yes, the last two years have been challenging for everyone, but the heart of the Temecula Valley is rooted in enjoying our beautiful valley and the endless opportunities to enjoy the award-winning fruits of our collective labor." 
The 2021 figures do not reflect major economic impacts of the coronavirus pandemic on 2021 visitor spending and tourism employment. 
ABOUT TEMECULA VALLEY AND VISIT TEMECULA VALLEY   
Temecula Valley Southern California Wine Country is a year-round vacation destination pouring award-winning wines as well as craft beers and spirits. It's where people live glass full behind the scenes and under the spotlight. Temecula Valley is made up of a community of Mavericks and Makers that are telling their stories, their way. 
The emerging and evolving culinary scene, small town atmosphere, and outdoor recreation and entertainment in Temecula Valley Wine Country, Old Town Temecula, and Pechanga Resort Casino culminate to create a spirited destination inspired by the vine.  
Temecula Valley is located in the center of Southern California just 60 minutes from San Diego, Orange County, and Palm Springs; 90 minutes from Los Angeles.  
 Visit Temecula Valley is the region's official tourism marketing organization and resource for visitors. The Visitor Center is located in Old Town Temecula. For visitor information and assistance, please call (888) 363-2852 or go to VisitTemeculaValley.com.