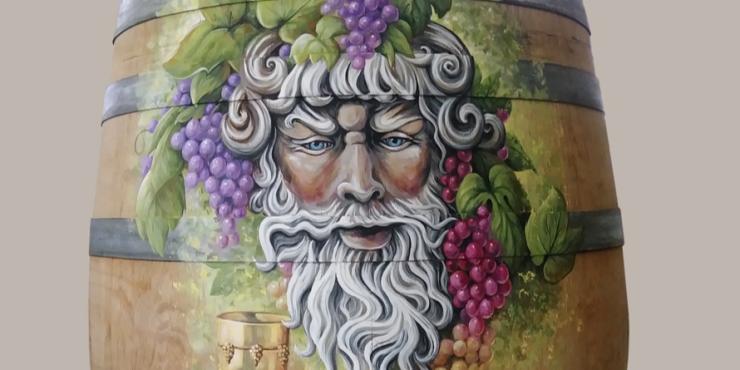 Local artists pair with wineries, hotels, and shops in Temecula Valley Southern California Wine Country to create custom art on retired wine barrels. This new self-guided tour showcases another reason to visit and extend the stay. The arts and culture in Temecula Valley continue to expand through entertainment, art, history, and culinary offerings. This popular, award-winning destination is just an hour north of San Diego and 90 minutes south of Los Angeles.
Twenty wine barrels with hand painted artwork by local artists will launch as the Barrel Art Trail on Tuesday, September 24, 2019. These barrels can be found at several wineries, hotels, and shopping areas. Each of the locations partnered with an artist, some even used their talented employees to create their masterpieces. Many of the barrel art pieces represent the businesses where they are on display, such as a portrait of Bacchus, the god of wine, by artist Tamra Gerard at Gershon Bachus Vintners Winery; and Temecula Olive Oil Company's scene of their olive ranch property.
The artists are all local, some with longstanding careers in art while others took on the challenge as employees of the location. Bel Vino's General Manager, Erika Batiz, made this a mother-daughter project, creating a giant colorful butterfly. Carter Estate partnered with a young woman, Sydney Edmond, who created a row of wine bottles that works color and balance into a beautiful design. This 26-year-old autistic artist communicates through typing and uses art as her expression, and it's magical. Artist Tom Fontanes is a decorated United States Marine Corps Vietnam combat veteran. His brand is Nam Vet Art. His barrel can be found at the Visitor Center in Old Town Temecula. The art represents Temecula's pioneers up to its modern iconic City Hall.  
Two very memorable pieces can be found when staying at Fairfield Inn & Suites by Marriott or Embassy Suites. Artist Bonnie Martland designed both to showcase the heritage and land of the region with a breathtaking wine country panoramic, while the other is in memory of and depicts the art style of Old Town Temecula legend Bob Morris.
Other artists are Scott Alan Hardy, Jenny Breniff, Lisa Cabrera, Brenda Bush, Michael Peterson, Breanna Perales, Rebecca Berger, Kym de los Reyes, Derek Fickes, Miguel Santos and Alex Baily, Katherine Del Bono, Sarah Chian, Eina Bellefontaine.
The Barrel Art Trail winds through Temecula Valley Wine Country, Old Town Temecula, Promenade Temecula, and participating hotels. Maps to the locations can be picked up at the Visitor Center, 28690 Mercedes Street, Temecula, CA or downloaded at VisitTemeculaValley.com/barrel-trail.
Locations where these barrels are on display are: Promenade Temecula (near the entrance between Yard House and Pottery Barn), Home2 Suites, Fairfield Inn & Suites, Embassy Suites, Visit Temecula Valley Visitor Center, Baily's Old Town, Lorimar Loft, Old Town Spice & Tea Merchants, Temecula Olive Oil Company, Akash Winery, Bel Vino Winery, Carter Estate Winery & Resort, Cougar Winery, Falkner Winery, Gershon Bachus Vintners, Lorimar Winery, Peltzer Family Cellars, South Coast Winery, Wilson Creek Winery.
Find out more about a vacation to Temecula Valley and everything there is to taste and do at VisitTemeculaValley.com.
About Visit Temecula Valley
Laid back, picturesque Temecula Valley Southern California Wine Country welcomes more than three million visitors each year. It is a year-round vacation destination, located 60 minutes from San Diego, Orange County, and Palm Springs; 90 minutes from Los Angeles.
Temecula Valley Wine Country is widely recognized for its scenic vineyards, award-winning wines, and experiential wineries. The popular boutique destination includes the Temecula Valley A.V.A. (American Viticulture Area) as well as historic Old Town Temecula, and Pechanga Resort Casino. It also was named as a 2019 Wine Enthusiast 10 Best Wine Travel Destination.
Visit Temecula Valley is the region's official tourism marketing organization and resource for visitors. The Visitors Center is located in Old Town Temecula. For visitor information and assistance, please call (888) 363-2852 or go to VisitTemeculaValley.com.