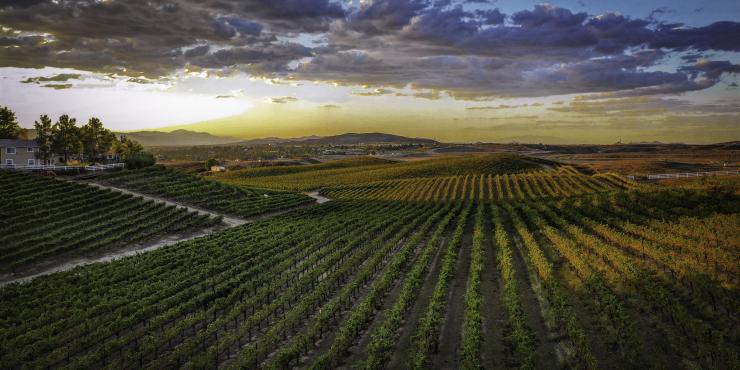 Temecula Valley Southern California Wine Country has been nominated by USA Today as a 10Best Readers' Choice for "Best Wine Region." A total of 20 wine regions across the United States have been nominated by an expert panel. Now they compete for the next four weeks, asking the public to vote through August 2 online at 10best.com/awards/travel/best-wine-region-2021.
"Thank you USA Today and thank you to the tourism and wine industry in Temecula Valley," says Kimberly Adams, President and CEO, Visit Temecula Valley. "It has been a difficult year, but we've risen above it's challenges and we are proving our resilience and perseverance. We hope the public will vote for us and come back to visit again now that everything in our destination has reopened."
"Temecula Valley Wine Country is honored to receive this recognition along with so many respected wine regions. I applaud our wine community that works tirelessly to make every bottle and every visit special," states Krista Chaich, Executive Director of the Temecula Valley Winegrowers Association.
Temecula Valley Wine Country is located in the center of Southern California, just 60 minutes from San Diego, Orange Country, and Palm Springs, and 90 minutes south of Los Angeles. There are now nearly 50 wineries in the significant and diverse Temecula Valley AVA, a major AVA in Southern California. The wine region continues to gain recognition for its award-winning, premium varietal and proprietary blended wines.
More than three million travelers visit Temecula Valley to enjoy the region's welcoming wineries, learning experiences, concerts and signature events, outdoor activities, and exceptional dining. Less-busy weekdays provide potential opportunities to converse with talented winemakers and friendly winery owners. Hotels, resorts, bed and breakfast inns are available among the vineyards, in and near Old Town Temecula, within the canyon, and along hotel row in Uptown.
For more information about Temecula Valley Southern California or to start planning your trip, go to VisitTemeculaValley.com.
ABOUT TEMECULA VALLEY AND VISIT TEMECULA VALLEY 
Temecula Valley Wine Country is widely recognized for its scenic vineyards, award-winning wines, and experiential wineries. The popular boutique destination includes the Temecula Valley Wine Country as well as historic Old Town Temecula, and Pechanga Resort Casino. It also was named as a 2019 Wine Enthusiast 10 Best Wine Travel Destination.
Visit Temecula Valley is the region's official tourism marketing organization and resource for visitors. The Visitor Center is located in Old Town Temecula. For visitor information and assistance, please call (888) 363-2852 or go to VisitTemeculaValley.com.