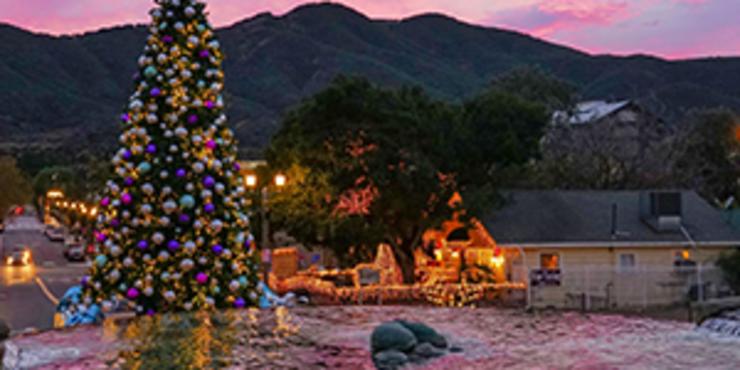 Travelers flock to Temecula Valley Southern California Wine Country during the winter months for sunshine, patio dining, and outdoor recreation. It's an ideal winter destination, just 60 minutes from San Diego, Palm Springs, Orange Country, and 90 minutes from Los Angeles.
Temecula Chilled
Some of the coolest holiday events in Southern California take place during the month of December under the Temecula Chilled campaign. From decorated buildings in Old Town to Chilled menu items at numerous restaurants to the vineyards adorned with festive lights in wine country, Temecula Chilled is sure to create treasured holiday memories for years to come.
Within Wine Country, there are plenty of holiday offerings to add to the festive cheer. Christmas on the Farm at Peltzer Family Cellars begins November 16 with the opening of the ice rink, followed by a tree lighting on November 24 and 25 with Santa visits, live music and vendors. The ice rink will be open daily from 3:00 p.m. to 9:00 p.m. through January 6. South Coast Winery will hold its annual Tree Light Festival on November 30 from 6:00 p.m. to 9:00 p.m. There will be a buffet dinner, carolers, a choir, tractor and horse carriage rides, Christmas movie screening, cookie decorating, face painting, and photos with Santa at the event. The Vineyard Rose Restaurant at South Coast Winery will serve a prix fixe dinner on December 24 and 25 and a Christmas Brunch on December 24. Temecula Carriage Company will do their annual Jingle Bell Sleigh Rides through more than 100,000 twinkling lights and holiday décor. Reserve your spots early because they fill up quickly.
Old Town Temecula is bright with holiday cheer including live entertainment, store and restaurant specials, ice skating at Town Square Park, Santa meet and greets, Cookie Time, and more. At the Holiday Taste of Old Town and Old Town Shopping Night on Tuesday, December 4, restaurants offer samples and stores stay open late with special discounts. Families should mark their calendar for Friday, December 7, the evening of Pennypickle's Winter Wonderland; visits with Santa are capped off with play in real snow.
Holiday-themed entertainment takes center stage at the Old Town Temecula Community Theater with the 19th Annual Christmas in the Air concert, The Nutcracker Ballet, and the holiday classic, A Christmas Carol.
Temecula Chilled will be celebrated at Vail Headquarters on Saturday, December 15. Visitors are encouraged to bundle up for an evening of holiday fun. There will be a holiday gift market, horse-drawn carriage rides, free photos with Cowboy Santa, and free hot cocoa and treats.
Additional Winterfest activities throughout the season include Pechanga Resort & Casino's gingerbread display, Irving Berlin's White Christmas The Musical, an expansive gingerbread display at the Buffet at Pechanga, and hundreds of gingerbread houses for sale at Blends Coffee & Wine Bar. December live entertainment that will keep things cool include Michael Bolton, Tony Bennett, Trevor Noah, Wynonna Judd, and the Village People.

Shop & Stay
Stay, Shop & Save in Temecula Valley from November 1 through December 10 to receive a $50 Promenade Temecula gift card. This is a great way to get holiday shopping done while enjoying the festive atmosphere. A minimum of two nights is required at one of the participating hotels in Temecula Valley. The gift card is redeemable at all retailers, restaurants, theaters, department stores and eateries located at the mall. Visitors just need to fill out where they are staying.
Stay two nights and qualify to enter to win Chilled Hard Cash. Five lucky winners will receive $1,000 cash. Dates of stay must be between November 24 and December 19. This is an ideal time to visit and enjoy all the holiday festivities.
Temecula Valley New Year's Eve
Visitors to Temecula Valley can ring in the new year with a unique variety of live entertainment, festive celebrations, wine packages, nightclub parties, and countdown events guaranteed to start 2019 off right. Old Town Temecula, Temecula Valley Wine Country, and Pechanga Resort & Casino will host the region's events, including the annual Old Town Temecula's Grape Drop. The giant grape cluster of molded fiberglass measures 12-feet by 7-feet. Live music plays in the court yard of City Hall, as well as outdoor ice skating and family activities. There is both an east coast and west coast countdown, so everyone can participate.
Visitors can raise their glasses to the new year at Wilson Creek Winery's annual New Year's Eve bash. It's always a sell out event. Several additional wineries host parties as well, be sure to check VisitTemeculaValley.com for updated information.
In addition, about 80,000 visitors show up for the annual New Year's Eve parties around Pechanga Resort Casino, be sure to arrive early. NYE at Kelsey's will ring in the New Year with Grammy-winning producer DeeJay Cyfer and enjoy the sounds of Top-40 dance hits in an exclusive, intimate atmosphere. Kelsey's Loft will host Havana Nights with DJ Fe-Arrow in a sultry Latin atmosphere with Margaritas and a Mexican food buffet. NYE at Cabaret at the Ball Room will celebrate with live music from the 90s to today with Off the Cuff. NYE at Eagle's Nest is a two-room party with two DJs playing favorite hits from the Eagle's Nest and Eagle's View. NYE at Lobby Bar will feature dueling pianos for a rockin' New Year's Eve. The largest gathering is at The Round Bar where hundreds of balloons and pounds of confetti fall at the stroke of midnight.
Temecula Valley Restaurant Month
Temecula Valley Restaurant Month is the unique opportunity-of-the-year to taste and savor some of the region's best foods. Participating restaurants are putting forward their "best" menu items during the month of January. Suggested stops include The Vineyard Rose Restaurant at South Coast Winery, Pinnacle Restaurant at Falkner Winery and the Donut Bar, new in Temecula Valley. Executive Chef Loren Lawe's Seared Mediterranean's Sea Bass is packed with vibrant flavor and is a crowd favorite at The Vineyard Rose Restaurant. The sea bass is prepared with roasted butternut, braised leeks, toasted pine nuts and brown butter. The Pinnacle Restaurant features a Peppercorn Ranch Burger with Black Angus beef, melted Monterrey Jack cheese, cherrywood bacon, lettuce, tomato, and green peppercorn ranch aioli. The Donut Bar is showcasing their popular French Toast Donut, which they say is a raised cinnamon sugar donut turned into "the best French toast you've ever had."
28 Days of Valentine Romance
Temecula Valley Southern California Wine Country invites couples to stay, experience, and embrace Valentine romance throughout the month of February. Tempting hotel-resort accommodations, nightly room rates, and packages are companion to romantic dining, memorable hot air balloon flights, vineyard carriage rides, indulgent spa experiences, live music and entertainment, and activities like wine tasting in Temecula Valley Wine Country, exploring Old Town Temecula, and the adventure of Pechanga Resort & Casino.
About Visit Temecula Valley
With natural gifts of climate and geography Temecula Valley Southern California Wine Country is recognized for scenic vineyards, award-winning wines, and 40+ wineries. The popular, boutique destination includes the Temecula Valley A.V.A. (American Viticulture Area) as well as Historic Downtown Old Town Temecula, Pechanga Resort & Casino, and Temecula Wine Country Golf Trail.
Visit Temecula Valley is the region's official tourism marketing organization and an online resource for visitors at VisitTemeculaValley.com. Temecula Valley Visitors Center is located in Old Town Temecula. For visitor information and assistance call go online to VisitTemeculaValley.com or call (888) 363-2852.