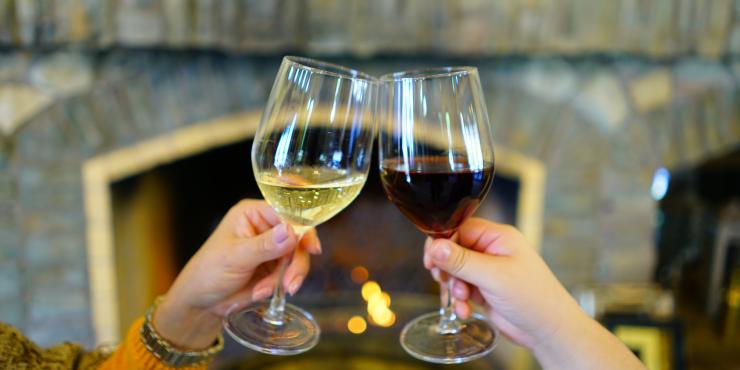 For entertaining, sipping by the fire, or gift giving, these Temecula Valley beverages are perfect for the winter season. They are available online or make a safe holiday getaway out of it and shop in-person.
Old Town Spice & Tea Merchants offers three specialty cocoas: Chai, Mexican, and Old Town Hot. Chai Hot Chocolate is cocoa, sugar, sea salt, ginger, cinnamon, clove, coriander, cardamom, pepper, and vanilla bean all blended together for a spice, warm treat. The Mexican Hot Chocolate consists of cocoa, sugar, cinnamon, and chili for a little kick. The Old Town Hot Chocolate is more of a traditional blend with cocoa, sugar, sea salt, and vanilla. The shop also carries more than one hundred teas, but the Candy Cane and Gingerbread Latte are excellent choices for cool winter days.  
Choosing a Temecula Valley wine can be overwhelming but here are two recommendations sure to please guests this holiday winter season. Carter Estate Blanc de Blanc Brut is ideal for celebrating with its flavors of classic bright green apple and a bit of pear from Carter Estate Chardonnay grapes. Another great choice is Chapin Family Vineyards' 2017 Cabernet Sauvignon. This deep garnet wine has smooth flavors of blueberry, mocha, plums, and vanilla.
Refuge Brewery is releasing their popular annual Sweet Baby Jesus beer. The name is a play on the movie Talladega Nights. The brew is a strong Double IPA with stone fruit/apricot and a dank. Other winter releases are Cranberry Cinnamon Sasion and Holiday Beermeister IPA.
Batch Mead is selling a Pie Mead series this season. They carry a set that can include four or five of these meads: Strawberry Rhurbarb Pie, Boysenberry Pie, Cherry Pie, Apple Pie, and Pumpkin Pie ranging from semi-sweet to sweet. Look for these new items on their website at BatchMead.com.
Galway Spirits offers whiskey, bourbon, gin, and vodka. Their flavored vodkas come in blood orange, coffee, passion fruit, dragonfruit, and mango. These spirits must be picked up at the distillery. 
Order online or taste in-person before purchasing while enjoying the destination. Create your shopping getaway itinerary at VisitTemeculaValley.com.
ABOUT TEMECULA VALLEY AND VISIT TEMECULA VALLEY  
Temecula Valley is open and welcomes local visitors. The businesses have strict cleaning protocols to ensure everyone's safety and comfort because they consider the health of their employees and guests top priority. They have met and often succeeded county and state requirements. Face masks are strongly recommended when visiting and please be kind to the workers, they are doing everything they can to make the experience an enjoyable one.
Temecula Valley is a popular Southern California destination that includes Temecula Valley Wine Country, Old Town Temecula, and Pechanga Resort Casino. In 2019, Wine Enthusiast named it a 10 Best Wine Travel Destination. 
Visit Temecula Valley is the region's official tourism marketing organization and resource for visitors. For visitor information and assistance, please call (888) 363-2852 or go to VisitTemeculaValley.com.