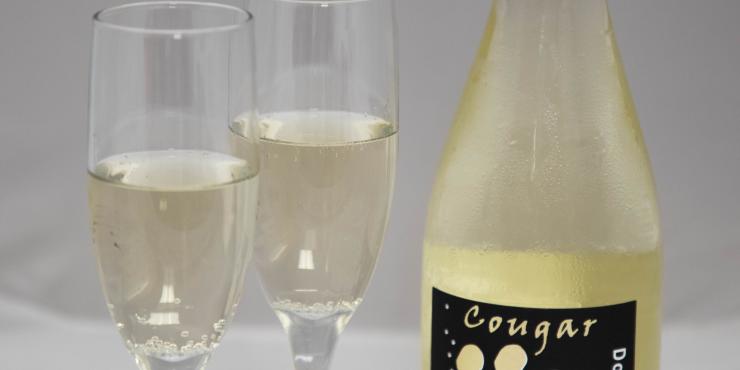 As the holiday season approaches, wine lovers will be searching for wines that complement holiday dinners and can please a wide array of palates. Whether it's a small gathering or a large soiree, Temecula Valley sparkling wines offer something for every wine personality. Sparkling wines are ideal for special occasions, and as the holidays approach, we've asked our winemakers for holiday entertaining and gift-giving recommendations.
A blend of primarily Chardonnay and Pinot Noir, which gives the wine an exciting, crisp fruit character while taking on a clean and straight forward yeast flavor from the lengthy tirage time of 28 months using the méthode champenoise process. The addition of a small amount of Pinot Noir helps to round out the wine, giving it complexity and uniting the white varietals. The Thornton NV Brut has a lot of finesse along with apple, pear and tropical aromas, which meld with toasty yeast flavors, while the finish is long and creamy. $33 Bottle
South Coast Winery Sparkling Pinot Grigio
This sparkling Pinot Grigio is worlds apart from what is normally expected with this style of dry white wine. Finished as a "Brut" this is a Pinot Grigio with wonderful nuances of pears and apples, a touch of tropical fruitiness and crisp acidity. "Whenever toasting a special occasion, serve this wonderful sparkler and let the good times roll!" says winemaker Jon McPherson. $24 Bottle
Carter Estate 2014 Blanc de Blanc Sparkling
This product has been painstakingly nurtured to deliver a sparkling wine with the finesse, flavor and aroma of a fine méthode champenoise sparkling wine. The process included barrel fermentation and barrel aging of approximately 8% of the cuvee prior to the secondary fermentation. Once the Blanc de Blanc had been blended and undergone secondary fermentation, it was aged for an additional fifteen months on the yeast lees. This time on the yeast lees helped to develop the yeasty, toasty aromas, a very fine bubble bead, wonderfully full creamy textures and an extraordinary mousse. The bottle is brimming with fresh apple and delicate floral aromas; a hint of oak shows in the background with a nuance of vanilla, toasty cookie and a rich yeasty character. This wine has a very bright acidity and a refreshingly dry finish. "Definitely our finest sparkling release to date," states winemaker Jon McPherson. $34 Bottle
100% Estate Malvasia Bianca sparkling wine. Sweet, Muscat-like with notes of apricot, peaches and honey, for the taste buds that like more of a dessert flavor.
Though Temecula Valley wines can be ordered through the wineries' online stores and shipped to most states, what better excuse to visit the destination and try the wines onsite. Temecula Valley is conveniently located in the center of Southern California, just an hour drive from San Diego, Palm Springs and Orange County and 90 minutes from Los Angeles. Many winery restaurants offer special holiday dining menus that pair wonderfully with their holiday wines. Resort, hotel, bed and breakfast inns and vacation rentals offer special packages and pricing for Sunday through Thursday stays.
To plan your holiday stay go to VisitTemeculaValley.com.
ABOUT THE TEMECULA VALLEY AND VISIT TEMECULA VALLEY
With natural gifts of climate and geography, Temecula Valley is widely recognized for its scenic vineyards, award-winning wines, and friendly wineries as Temecula Valley Southern California Wine Country. The destination includes the Temecula Valley AVA (American Viticulture Area) as well as Old Town Temecula and Pechanga Resort & Casino.
Visit Temecula Valley is online at VisitTemeculaValley.com; "Temecula Valley Southern California Wine Country" on Facebook, @VisitTemecula on Instagram and @Visit_Temecula on Twitter. The Temecula Valley Visitors Center is located in Old Town Temecula on Mercedes Street adjacent to the Old Town Parking Garage. For visitor assistance, call 888-363-2852 or 951-491-6085.