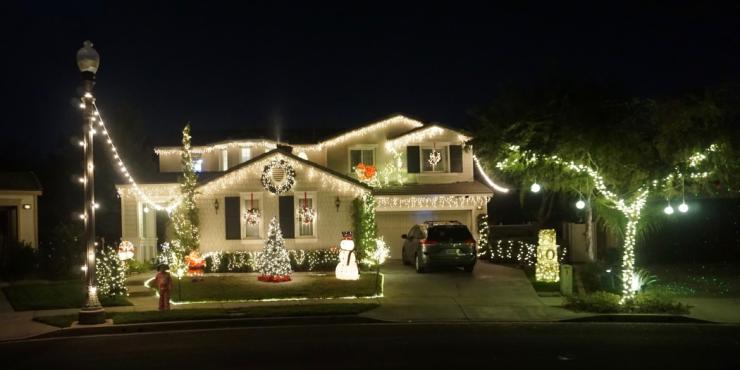 By Amber of Global Munchkins
I can't believe it is already this time of year. The weather is finally beginning to cool, Christmas commercials are on TV, catalogs are arriving in the mail and the holiday tunes are starting to play. By far, Christmas is my most favorite time of the year. This year I have scoured the town and the internet to find the ultimate guide of the best things to do during the holiday season and for Christmas in Temecula & Murrieta.
The ULTIMATE GUIDE to the Holidays & Christmas in Temecula & Murrieta- 2018
Christmas Lights Temecula & Murrieta
City of Temecula & Murrieta Holiday Decorating Contests
Every Year, both cities Temecula & Murrieta have a map of all the Holiday Light Contestants and winners of their Holiday Lights Competition. Here is the link to the map.
Winner! 2018 City of Temecula Christmas Lights Norman Rockwell Award
Winners will be revealed for 2018 once they have been announced!
Bainbridge Circle
This incredible street has pretty much every house fully decked out in lights an animation with music synchronized to all the lights in the neighborhood. As you pull up, you will see signs to tune into a certain radio station and you can pipe the music directly into your car as you drive through. I prefer to park and go for a stroll along this incredible spectacle of lights.
**Pro Tip** Go early in the season and on weekdays to avoid crowds. This place gets very busy!
Christmas Tree Lighting at the Pond – November 26, 2018- 7:30pm-8:30pm
28250 Ynez Rd, Temecula, CA 92591, Temecula, CA 92590
Murrieta Festival of Lights & Tree Parade – December 1st- 5:00pm-7:00pm – Town Square Park
Family Filled Fun as there will be carriage rides, fully themed decorated trees, a magic show, and photos with the one and only Santa Clause!
Temecula Wineries – Many of the local wineries light up for to celebrate Christmas in Temecula – We will have a map together as we get further information.
Peltzer Ice Rink- Saturday, November 24th- January 6, 2019 from 3pm-9pm daily. Peltzer Farms has an Ice Rink for the first time ever! Bring the whole family to enjoy kettle corn, Hot Cocoa, and s'mores that are available for purchase! Admission includes a pair of skates. $15 for adults and $11 for kids 5 years and under (with adult admission). Crush Club Members of course get a discount of $2 off the regular adult prices. You can bring your own skates as well! $13 for Adults and $9 for kids 5 years and under (with adult admission). If you plan on enjoying an alcoholic beverage, Blacksmith Bar will be open for drinks Friday- Sunday 4:30-8:30pm!
Lorimar Winery Tree Lighting – December 2nd 5pm – Meet Santa, eat delicious cookies, and more! Oh and by the way it's a free event! Have fun!
Worth the Drive
Mission Inn Festival of Lights – Riverside – Mission Inn November 23 through Jan. 6th. Entrance is FREE. Additional activities include: horse-drawn carriages, train rides, food stands & more (fees apply).
Skating by the Sea at the Hotel Del Coronado
Local Christmas Light Tours – Parades
Jingle Bell Horse Drawn Sleigh Rides-  Temecula Carriage Co. will take you on a tour through more than 100,000 twinkle lights and holiday décor. 25-minute rides can be booked between the hours of 3pm and 9pm – December 2- December 31 – up to 4 guests on your private carriage $65. Reservations are subject to availability
Twas the Lights Before Christmas Bus Tour
Take a double decker open air bus tour around Temecula – Enjoy holiday refreshments,  corny jokes, and holiday cheer. Price is $10 per seat.
Dates Available – 12/6/18, 12/7/2018, 12/9/2018, 12/13/2018, 12/14/2018, 12/15/2018, 12/16/2018, 12/17/2018, 12/18/2018
Santa's Electric Light Parade! – November 30, 2018 – 7:00 pm Old Town Temecula
26th annual Santa's Electric Light Parade in Old Town. Listen to holiday music, enjoy the lit up floats, grab some hot chocolate for the 26th anniversary of  this classic Temecula Event
REAL SNOW!!
PennyPickle's Winter Wonderland – Friday, December 7, 5-8:30 pm,
42081 Main St., Temecula, CA 92590
REAL NOW to play in plus visit Santa, and enjoy an evening of CHILLED surprises. Dress warmly because this event is held outside and there's real SNOW to play in!
ACTIVITY TICKETS $1 EACH. Tickets may be purchased in advance through Thursday, December 8 by calling 951-308-6376 and they will be held for you at the Will Call table
South Coast Winery November 30 6:00pm – 9:00pm
South Coast Winery's Annual Tree Lighting Ceremony & Snow Festival has a Real Snow Play Area, Live Entertainment, Santa Photos, Cookie Decorating, Sleigh Rides, Food & Family Activities for All Ages! Unfortunately, it is sold out this year, but make sure to start preparing early for next year. FREE TO THE PUBLIC & FUN FOR THE WHOLE FAMILY! 
Visit or Dine with Santa!!
Temecula Promenade Mall – November 18th – December 24th
Santa Arrives at the Temecula Promenade Mall on November 18th, enjoy live music, aerial artists, light show & fireworks.
Santa Arrives in Old Town Temecula Nov. 24th – 26th
Friday November 24th: 6pm-9pm – Saturday 25th,  10am-2pm
Sunday 26th, 1pm-5pm
Santa at Temecula Town Center. Near Target and Home Goods. Santa will be available starting Nov 17 for pictures through Dec 24. Reservations and purchases are on-line and highly recommended. For visits scheduled after December 15-23, there will be a $20 non refundable deposit.
Breakfast With Santa- December 9th, 2018  – Temecula Community Recreation Center
Start your morning with a tasty breakfast, carolers, pictures with Santa and a visit to Santa's Workshop. This is an annual family tradition for many! Register early, as space is limited! It is $7 per person and the event is from 8:00am to 1:00pm
Donuts with Santa – December 1st at 9am to 10:30 am –Town Square Park, Murrieta
Santa will be by with donuts and juice for his fans. Space is limited. Reserve your space beginning Nov. 14th online at www.murrietaca.gov
Penny Pickle's Workshop – 42081 Main St., Temecula, CA 92590
Santa Arrives on November 23rd at 6:00pm  and is there every weekend through December 23rd.
Christmas on the Ranch at Galway Downs –  December 1st – Santa will be at the Christmas on the Ranch, visit Santa then take a skate on the 2nd Largest Outdoor skating rink in California. There is also DIY hot cocoa bar, visits from Santa throughout the day, multiple food vendors and tastings from Galloway spirits with a full bar.
Brunch with Santa at Christmas on the Ranch – December 17th at 10:00am
Tickets are $25 and there is limited seating so be sure to purchase your tickets early.
Murrieta Santa Stops – Throughout the city of Murrieta you will find Stars on the street. This is where Santa and his helpers will be visiting the local children. Here is the link to the map 
Breakfast with Santa at Fire Station 61 in Wildomar – December 16th 8am-11am
Enjoy some buttermilk pancakes with Saint Nick at this fun annual Event. More Info available at www.cityofwildomar.org
Letters from Santa – Annies Cafe on Jefferson Temecula  There are post boxes directly to Santa from December 1st  until Christmas Eve so that your little ones can post their letters to Santa. The letters that were dropped off at Annies Cafe will get a personalized reply from the North Pole to pick up when they come in next time.
Ice Skating in Temecula & More!
PennyPickle's Polar Express – December 21st 5:30 P.M.- 7:30P.M. – $25 Per child
Mom & Dad's can enjoy some alone time as you drop off your pajama-clad kiddos for two hours of fun activities and adventures. This is a KIDS ONLY EVENT Age 5-10 – Sells Out Very Quick – Call 951.308.6376 to reserve your spot
Temecula on Ice at Old Town Temecula- December 13, 2018- Janaury 6, 2019 – The hours the ice rink will be available will be Sunday- Thursday from 10:00am-9:30pm; Friday-Saturday from 10:00am-11:00pm. The admission fee is $12, skate rentals are $5, and an $8 Bobby skating aid. Oh! and don't forget to have fun!
Toys 4 Tots Free Movie Night at Temeku Cinemas – December 7th 4:30pm- 7:30pm with showtime at 6:00pm
Bring an unwrapped toy for a FREE Movie Night, popcorn treats and a visit from Santa!
Holiday Plays & Musicals
A CHRISTMAS STORY: THE MUSICAL- Old Town Temecula Theater
NOV 10, 11, 17 &18, 2018@ 7:30pm
NOV 11, 12, 18 & 19, 2018 @ 2pm

Academy Ballet of Arts Nutcracker – Temecula Valley High School
December 17th-22nd. The exact times are TBA.

THE NUTCRACKER BALLET Presented by Inland Valley Classical Ballet Theatre 2018
November 23-25. Tickets are $20-$24 and $26 the day of

The Nutcracker Ballet – Old Town Temecula Theater
Old Town Temecula Community Theater Dates vary between December 14, 2018 – December 23, 2018

Irving Berlin's White Christmas – Pechanga
December 21, 2018 • 8 PM, December 22, 2018 • 2PM & 8PM
December 23, 2018 • 2 PM

A CHRISTMAS CAROL 2018 – Old Town Temecula Theater

19th ANNUAL CHRISTMAS IN THE AIR – Old Town Temecula Theater
SAT, DEC 1, 2018 @ 7:30pm SUN, DEC 2, 2018 @ 2pm
Candlelight Classics: Quartet Nouveau – Old Town Temecula Theater
Sunday, December 9th at 3:00pm
Christmas Tree Lots
Bennett's Best Christmas Trees – 40727 Murrieta Hot Springs Rd, Murrieta, CA 92562
Moon Valley Nursery –  36705 Briggs Rd, Murrieta, CA 92563
Stu Miller's Christmas Trees – 38174 Murrieta Hot Springs Rd.Murrieta,  CA. 92563

Wickerd Farm – 26852 Scott Rd, Menifee, CA 92584
NEW YEAR'S EVE!
1) NYE Grape Drop –
Location: Town Square – 41000 Main Street, Temecula, CA 92592
Come ring in the new year Temecula-style at our family friendly Grape drop! Friends and family of all ages are invited to the annual event on Sunday, December 31st, beginning at 6 pm in Town Square in Old Town Temecula! Join us and see our Temecula custom-crafted, beautifully illuminated cluster of grapes descend 65 feet from the third-story patio of the Civic Center tower clock. There will also be live music to dance to, a Fun Zone with activities for all to enjoy, such as hat making, face painting, and a giant slide! There will even be two countdowns, East Coast (9:00 pm) and West Coast (12:00 am), both led by city officials!
Source: Visit Temecula Valley
2) New Years Eve at Pechanga
Pechanga invites you to join them to celebrate the new year on another level! They are offering a number of events including comedy shows, fine dining, parties and more! Some featured events include NYE at Lobby Bar,  Kelsey's NYE party, and The comedy club. You even have a chance to win a free car!!
Lobby Bar: Dueling Pianos Rockin Eve- Come in an enjoy dueling pianos for a very fun night. The event is from 10pm-2am. The presale tickets are $25 and the prices at the door are $35. They are available for purchase at 6pm on 12/31. Table reservations and VIP packages are also available.
Kelsey's NYE Party
Come dance 2018 away! Kelsey's will be having Grammy-winning producer DEEJAY CYFER spinning the Top 40 hits all night! . Tickets are $45 pre-sale and $55 at the door, including a light appetizer of hors-d'oeuvres and a Champagne Toast.
The Comedy Club
Tickets are $18 with a 2 drink minimum. It is now located at Kelsey's Loft
3) Wilson Creek Winery
Sunday, December 31 at 7:00PM to Monday, January 01, 2019 at 12:30AM
Whether you decide to celebrate East Coast or West Coast style, Wilson Creek have just the option for you! From a four-course wine paired dinner to a night of dancing. It will be the best place to ring in the new year!
5) New Years Eve Dinner & Events in Old Town Temecula
Throughout old town Temecula you will find a long row of restaurants offering up New Year's Dinner & Drink Specials. I recommend grabbing an uber into old town as the street will be quite packed.
Looking for more activities in Temecula? Check out my articles on-
THE BEST CATERING IN TEMECULA FOR YOUR NEXT HOLIDAY PARTY
THE COMPLETE GUIDE TO THE BEST BRUNCH & BREAKFAST RESTAURANTS TEMECULA HAS TO OFFER!
20 KID-FRIENDLY THINGS TO DO IN TEMECULA