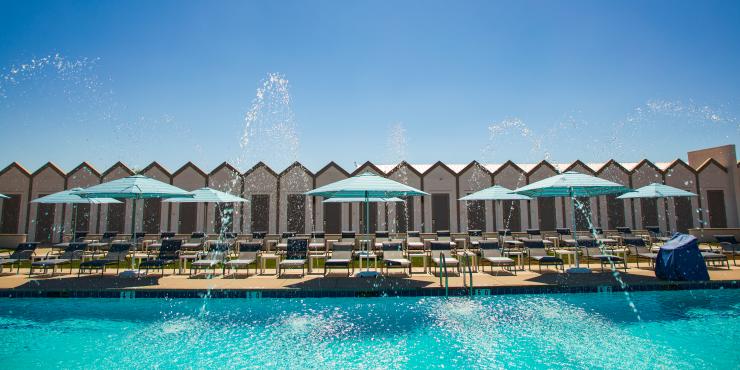 Temecula Valley Wine Country's new BOTTAIA Winery is pleased to announce the highly anticipated Sunday, April 21st opening of The Pool at BOTTAIA – just in time to welcome the warmer months. A sophisticated respite set amongst the backdrop of pristine rolling vineyards, the family-friendly Pool at BOTTAIA invites guests to indulge in the "dolce vita" lifestyle for the day by reserving one of 30 Italian-style cabines (Italian-style private changing rooms with showers), plus chaises. Local wines, craft cocktails and casual California and Italian-inspired small plates and entrees will be served at the poolside Cafe + Cocktail Bar. Since its opening in September 2018, reservation-only BOTTAIA Winery has introduced a new level of sophistication to the region by offering a chic, modern environment to enjoy exclusively estate grown Italian varietals, plus interactive wine and food experiences inspired by the luxury and refinement of Northern Italy.

For an unparalleled ambiance, The Pool, Cafe + Cocktail Bar overlook BOTTAIA Winery's picturesque rows of grape vines and present sweeping views of the Palomar mountain range. Adjacent to the main BOTTAIA Winery tasting room (ages 21+), the semi-Olympic sized pool and splash pad has its own private entrance – allowing for all-ages access. Guests can make the most of their day-long entry by enjoying loungeside service and dining at the shaded Pool Cafe + Cocktail Bar, which will serve a version of BOTTAIA Winery's popular artisan charcuterie boards, paninis, salads and more, in addition to a dedicated children's menu. BOTTAIA wines, along with other Temecula Valley and international wines will be available, as well as a wide assortment of traditional and modern cocktails.

"For me the pool and cabines at BOTTAIA are a nostalgic reminder of happy summers spent at the beaches of Grado and Lignano, (a few miles south of Udine, Italy, where our family is from), with my aunts and cousins. I remember changing into my swimming suit as a 6 or 7 year old, and marveling that everyone had their own cabine with a shower. A few years later, now a young teen, I was allowed to take the bus with other local kids to the same beaches. It seemed so exciting…" said managing partner Claudio Ponte. "Now that 45 years have passed, I can see that it all was, oh, so quaint and innocent. We welcome our adult guests to spend warm days at The Pool at BOTTAIA with their children and grandchildren, enjoy the sun, the vineyard views, the cabines, and why not, while the kids swim, a nice meal and a cocktail."
The Pool's water temperature is maintained at a balmy 82F (the temperature of tropical sea water) and employs the latest Ozone and Ultraviolet technology to allow for use of the lowest legal levels of chlorine. Cabine and pool chaise reservations will be available in advance: Cabine + 2 Pool Chaises + Day Pass: $100

30 Italian-style cabines line the pool, each appointed with a shower, teak bench, luxe amenities, storage for belongings and access to power for phone charging and hair drying. The day fee includes two reserved chaises, towels for two guests and bottles of water. Additional chaises may be purchased separately.

Pool Chaise + Day Pass
Chaise | Adult/Child (ages 3+) $35
Chaise | Infant (0-3 yrs. old) complimentary entry
A poolside chaise lounge reservation includes all day access to the pool, Cafe + Cocktail Bar access, towels, drinking water, a locker and use of the public showers.

BOTTAIA Winery, or "cask aging room" in Italian, produces Italian wines (mostly single-varietal selections and a few blends) using sustainable viticulture and Old World Italian-style winemaking techniques. The winery's structural design is inspired by the villas of Italy's Veneto region designed by Andrea Palladio in the 16th century. BOTTAIA's three modern barn-like buildings strictly follow Palladian architectural principles, governed by symmetry and proportion. They also dictate that the main building be elevated, centered and have a prominent entrance.

Great attention to detail is given to the BOTTAIA Winery guest experience, carefully curated from vineyard to glass. Tasting room reservations are limited, to support a tranquil atmosphere conducive to the discovery of wine. The winery offers three immersive wine and food experiences, including a guided, seated tasting with premium charcuterie and cheese pairings, an intimate barrel room tasting to discern the effects of barrel & bottle age on Italian varieties and the opportunity to learn the art of blending wine in the on-site lab.

The Pool at BOTTAIA, Cafe +Cocktail Bar will be open from 12 - 5 pm Wednesday - Sunday (all ages welcome). Reservations are highly encouraged, and walk-ins are welcome, subject to availability. BOTTAIA Winery is open 11am-5pm Wednesday - Sunday (21+), by reservation only. Overnight accommodations are available at nearby sister property, Ponte Winery and
Ponte Vineyard Inn. Complimentary self-parking is available.

For more information about The Pool at BOTTAIA, Cafe + Cocktail Bar and BOTTAIA Winery, please visit:www.BottaiaWinery.com or @bottaiawinery.