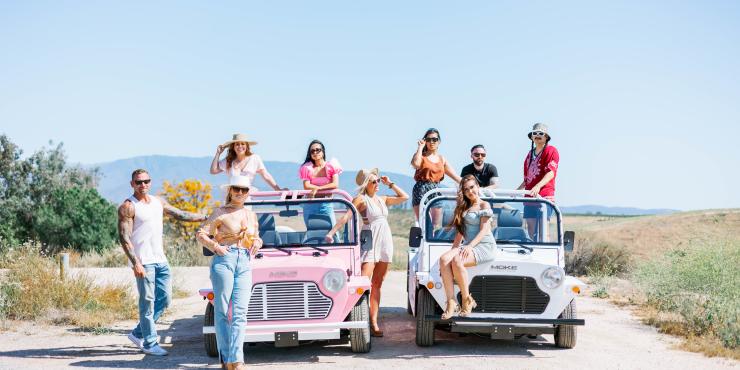 Moke & Wine Inc. is excited to announce the official launch of Moke & Wine Tours in Temecula Valley. A Moke (rhymes with 'Bloke') is a stylish small car that hails from the UK. First introduced in the 1950's for the British army, the car has since been redesigned and re-engineered for the US market. Moke cars are 100% electric, street-legal, slow moving vehicles that go a top speed of 25 miles per hour. Pairing the cars with a driver, known to the riders as a "Moke Jockey", makes Moke & Wine the first zero emissions chauffeured tour in Temecula wine country!
If the stylish eco-friendly car wasn't already a draw, the elevated tour experience should appeal to anyone who enjoys a well-balanced blend of wine, food, and nature. Moke & Wine Tours, which come in half and full day experiences ranging from two-and-a-half to five hour jaunts, have been thoughtfully curated. Each menu item, reserved table, photo opportunity and stint of the routes has been carefully selected by co-owners, Brittany Mendibles and Heidi Luerra, both 30-something Temecula locals that share an affinity for exclusive experiences, and are general fans of fun.
Each Moke & Wine Tour includes an immersive ride through the vines, treks up vineyard summits and back country roads, plus stops that include incredible panoramic views. "Having a vehicle with such flexibility allows us to show
riders the many facets of wine country and really accentuate the beautiful nature of the valley – the views are breathtaking, and we leave zero carbon footprint!" - said Luerra, who serves as Chief Business Builder. Each tour experience has also been customized to include a charcuterie board, a plated picnic lunch and traditional tastings as well as full glasses of wine. "Pairing award-winning wine with a culinary element was important to us. We wanted to create an experience that went above and beyond just tasting while taking the hassle out of navigating where and what to eat while in wine country. Our riders get to relax and let the perfect day unfold for them," said Mendibles, Chief Experience Officer.
Moke & Wine Tours are currently open for booking in their inaugural "experience loop" on Calle Contento that includes experiences at Falkner Winery, Akash Winery, Peltzer Winery and Longshadow Ranch Winery, with more experience loops coming to De Portola & Europa Village in the Fall of 2022. Prices start at $120 per person for a half day and $220 per person for a full day or two-car caravan experience. Each Moke holds four passengers plus the driver. Learn more at www.MokeandWine.com or on Instagram @MokeandWineTours