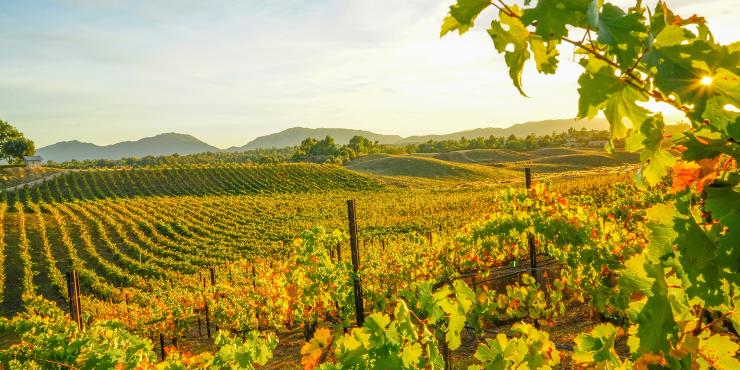 Temecula Valley Southern California Wine Country has been named by USA Today as a 10Best Readers' Choice for "Best Wine Region." Out of 20 nominees across the United States, Temecula Valley Wine Country ranked number three in the country by an expert panel and the public.
"This recognition is a testament to the hard work and passion of our winegrowers and winemakers. Our wine region is beginning to get the recognition it deserves for its award wining wines, dining, and experiences," says Kimberly Adams, President and CEO, Visit Temecula Valley.
"From our talented winemakers to chefs to tasting room staff and everyone in between, Temecula Valley is filled with passionate people who work tirelessly to make the region so special," said Krista Chaich, Executive Director of the Temecula Valley Winegrowers Association. "We are delighted to be counted among so many other great wine regions in this 10Best list, and that visitors everywhere have fallen in love with our community and our world class wines, just as we have."
Temecula Valley Wine Country is located in the center of Southern California, just 60 minutes from San Diego, Orange Country, and Palm Springs, and 90 minutes south of Los Angeles. There are now nearly 50 wineries in the significant and diverse Temecula Valley AVA, a major AVA in Southern California. The wine region continues to gain recognition for its award-winning, premium varietal and proprietary blended wines.
More than three million travelers visit Temecula Valley to enjoy the region's welcoming wineries, learning experiences, concerts and signature events, outdoor activities, and exceptional dining. Less-busy weekdays provide potential opportunities to converse with talented winemakers and friendly winery owners. Hotels, resorts, bed and breakfast inns are available among the vineyards, in and near Old Town Temecula, within the canyon, and along hotel row in Uptown.
For more information about Temecula Valley Southern California or to start planning your trip, go to VisitTemeculaValley.com.
About Visit Temecula Valley
Laid back, picturesque Temecula Valley Southern California Wine Country welcomes more than three million visitors each year. It is a year-round vacation destination, located 60 minutes from San Diego, Orange County, and Palm Springs; 90 minutes from Los Angeles.
Temecula Valley Wine Country is widely recognized for its scenic vineyards, award-winning wines, and experiential wineries. The popular boutique destination includes the Temecula Valley A.V.A. (American Viticulture Area) as well as historic Old Town Temecula, and Pechanga Resort Casino. It also was named as a 2019 Wine Enthusiast 10 Best Wine Travel Destination.
Visit Temecula Valley is the region's official tourism marketing organization and resource for visitors. The Visitors Center is located in Old Town Temecula. For visitor information and assistance, please call (888) 363-2852 or go to VisitTemeculaValley.com.
About Temecula Valley Winegrowers Association
Temecula Valley is the largest and most commercially successful winegrowing region in the South Coast AVA, the viticultural zone spanning more than 2 million acres from Riverside County to the San Diego border. The Temecula Valley Winegrowers Association has long served as a steward of the Southern California wine community. Comprising 38 wineries and more than 60 winegrowers, the Temecula Valley Winegrowers Association is a nonprofit regional organization dedicated to increasing awareness of the quality wines and wine grapes grown in the Temecula Valley and South Coast Appellations. Established in 1984, the Temecula Valley AVA consists of 33,000 acres, of which approximately 2,600 acres are currently planted to commercial vineyards. Known as Southern California's wine country, the Temecula Valley is located in Riverside County just one hour from San Diego, Orange County and Palm Springs and 90 minutes from Los Angeles. For more information on the Temecula Valley Winegrowers Association, visit www.temeculawines.org.
About 10Best.com
10Best.com provides users with original, unbiased, and experiential travel content of top attractions, things to see and do, and restaurants for top destinations in the U.S. and around the world. The core of the site's uniqueness is its team of local travel experts: a well-traveled and well-educated group who are not only experts in their fields - and their cities - but discriminating in their tastes. These local experts live in the city they write about so the content is constantly updated. 10Best.com averages 5 million visitors per month. It was acquired by USA TODAY in January of 2013.
About USA Today
USA TODAY is a multi-platform news and information media company. Founded in 1982, USA TODAY's mission is to serve as a forum for better understanding and unity to help make the USA truly one nation. Through its unique visual storytelling, USA TODAY delivers high-quality and engaging content across print, digital, social and video platforms. An innovator of news and information, USA TODAY reflects the pulse of the nation and serves as the host of the American conversation — today, tomorrow and for decades to follow. USA TODAY, the nation's number one newspaper in print circulation with an average of more than 1.6 million daily, and USATODAY.com, an award-winning newspaper website launched in 1995, reach a combined 6.6 million readers daily. USA TODAY is a leader in mobile applications with more than 16 million downloads on mobile devices. USA TODAY is owned by Gannett Co., Inc. (NYSE: GCI).