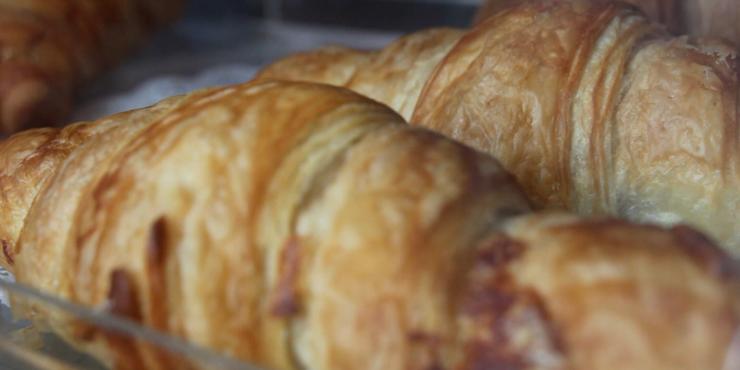 Man may not be able to live on bread alone, but that doesn't mean they can't try! Temecula Valley, rich in lush vineyards, rolling hills, and natural resources, also boasts an amazing assortment of hearty bread favorites, including a must-try Sourdough Brie Loaf, hand-milled Honey Whole Wheat, and French Croissant, for travelers seeking sustenance during their Temecula Valley getaway. From quick grab-and-go options to sit-down favorites, here are the must-try bread offerings in Temecula Valley.
Wine tasting at Maurice Car'rie Winery is made even more perfect by their to-die-for Sourdough Bread and Sourdough Brie offerings, which can be enjoyed outdoors on the lovely picnic area shaded by trees and a wrap-around veranda. The Sourdough Brie Loaf, a rich, cheese-filled fan favorite, is perfect for sharing; each loaf feeds approximately 4-6 people. Just craving the tartness alone to pair with your wine? Their famous Sourdough loaf is also available without a brie filling.
Great Harvest Bread Company in Temecula Valley is a family-operated bakery that produces daily loaves of various breads and desserts to tempt travelers with hearty goodness. Their seasonal offerings of breads and desserts start coming out of the oven every day at 9:30am; patrons wanting to sample hot-from-the-oven options should plan on arriving early. Bread is hand-milled, blended, and baked in-house daily from quality ingredients, starting in the early morning hours, to produce the freshest options available. Daily selections vary, but often include their beloved favorites including Honey Whole Wheat, Cinnamon Burst, 9 Grain, Alaskan Sourdough, and Italian Herb Parmesan Sourdough, as well as sweets and eats including cookies, muffins, scones, monkey breads, and cinnamon rolls.
Laurent's Le Coffee Shop, located in Old Town Temecula, boasts Temecula's must-have French croissant, in addition to a slew of other tempting offerings and beverages. The shop's owner, Laurent, brings his French baking roots (he was raised baking with his grandmother on a farm in Normandy) to the baking of his flaky croissants, available in buttery original, almond, and chocolate varieties. Visitors can also find Laurent's offerings at the Saturday Old Town Temecula Farmer's Market.
About Visit Temecula Valley
With natural gifts of climate and geography Temecula Valley Southern California Wine Country is recognized for scenic vineyards, award-winning wines, and 40+ wineries. The popular, boutique destination includes the Temecula Valley A.V.A. (American Viticulture Area) as well as Historic Downtown Old Town Temecula, Pechanga Resort & Casino, and Temecula Wine Country Golf Trail.
Visit Temecula Valley is the region's official tourism marketing organization and an online resource for visitors at VisitTemeculaValley.com. Temecula Valley Visitors Center is located in Old Town Temecula (Third Street and Mercedes). For visitor information and assistance, call (888) 363-2852 or (951) 491-6085.