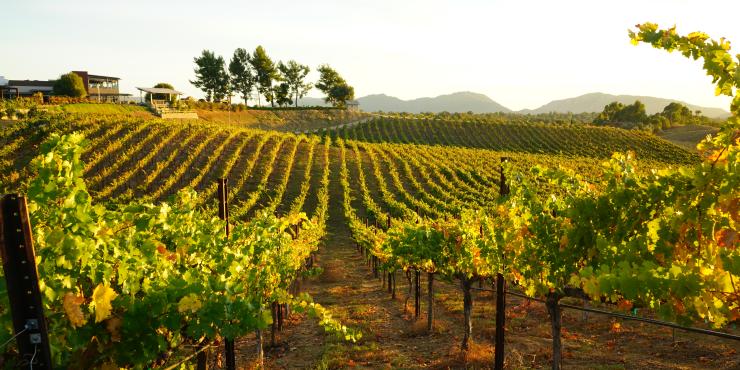 Temecula is right in L.A.'s backyard (San Diego's, too.) Get there before everyone else does.
MATT BEAN  – November 19, 2020 | Updated November 24, 2020
Just an hour and a half inland from Los Angeles on the backside of the Angeles National Forest and an hour north of San Diego, Temecula's wine country beckons with small-scale charm, a lively Old Town section, and recreation galore, from off-roading to hot air ballooning. Here's what to know before you go.
Sip
Bottaia Winery
A spin-off from the nearby Ponte estate, this Insta-perfect winery offers a wide range of experiences, from a blending experience to a charcuterie pairing education course to the best sunset views in the valley. The vineyard focus is on Italian wines. Try a flight mixing two whites and two reds or opt for a bottle of one of the reserve wines; we liked the Montepulciano. 
Lorenzi Estate Winery
Start any wine tour at this lion of the Temecula wine industry. The winemaker and family scion, Donald Lorenzi, publishes a series of lifestyle guides including the regional title Inland Empire and an Italian food magazine. He also oversees the most-awarded winery in Temecula. From 90 point-plus red blends to single varietals that surprise and delight—we love the Petite Sirah—Lorenzi's wines are sought after. The hillside palazzo feel of the Lorenzi Estate Winery's outdoor tasting room leaves out the gimmicks; if you're coming here it's to enjoy the wine. And enjoy you shall. 
Doffo Winery
Run by an enterprising family of Argentines, this ranch in the rolling hills sits at the far end of Temecula wine country. In addition to some of the best red wines in the valley, Doffo Winery features a collection of vintage motorcycles, from rare Ducatis to Kawasaki police cruisers. Make sure to grab a bottle of the chimichurri made by son Damian's catering company. On Saturdays, he and his wife offer family recipes including empanadas and more. 
Refuge Brewery
Owned by the successful inventor of systems for both homebrewers professional beer makers, the industrial park location of Refuge Brewery boasts a large backyard with ample shading and an engaging and eclectic lineup of beers, from Belgians to more inventive takes on wheat beer and IPAs. Art from a prominent Disney Imaginarium animator featuring rock and roll greats adorns the walls. 
Stay
Carter Estate Winery and Resort
Not only can you enjoy traditional Méthode Champenoise sparkling wines at the sprawling Carter Estate Winery and Resort, a few dozen cabanas beckon amidst the grapes. Each room offers a private terrace looking out at the vines, with large bedrooms and fireplaces. Best of all, the resort offers a hot air balloon package, launching nearby. 
Ponte Vineyard Inn
With large rooms looking out on vines and a main building done in the Mission style, this 90-room boutique is situated within the Ponte Winery. Enjoy a tasting on the terrace or use it as a home base to visit dozens of nearby vineyards and attractions. 
Eat
Small Barn
Powered by former Top Chef contestant Angelo Sosa, this new restaurant sits in the hot spot of Old Town Temecula in a historic former homestead. The eclectic menu includes Japanese-inspired dishes, from a dashi-infused leek and potato soup with a just-perfect, Jenga-shaped crouton for dipping to a hamachi platter with a broth that begs to be slurped up. The drinks are delightful, and so are the desserts. While the club atmosphere and amped up music call for swinging hips, the caliber of the food here demands you leave with a swaying belly. 
Bolero at Europa Village
Committing fully to Spanish cuisine and wines, this engaging restaurant with ample outdoor space offers everything from the classics—paella, pan con tomate, patatas bravas, mouth-watering Iberico ham—to inventive riffs on flavor and food. We like the deconstructed/reconstructed olives and the composed cylinders of Caesar salad wrapped in jicama. For wines, try a side-by-side pairing of the estate's own Rioja against a heavy-hitter imported from Spain. And don't forget the hand-made churros for dessert. 
E.A.T. Marketplace
This combination grocer and restaurant has been crafting forward-thinking food in Old Town Temecula for more than a decade. Chef Leah Dibernardo's farm-to-table approach includes delicious breakfast items—we loved the vegan French toast with a drizzle of syrup and a dusting of spirulina—as well as hearty deconstructed burritos.
Toast
A bountiful breakfast spot, Toast overdelivers with heaping portions of eggs, pancakes, and brunch drinks with all the fixings. We're big fans of the bursting-from-the-glass Bloody Mary and bacon tasting, paired up with local craft brews. 
Temecula Olive Oil Company
This family-owned early mover in the Olive world has been in operation for nearly 20 years, with both a farm property to tour and an Old Town tasting room. We loved walking under the trees on the ranch, which is about 15 minutes from the city proper. The blends and infusions are top-notch and you'll marvel at the heartiness of the ancient trees.