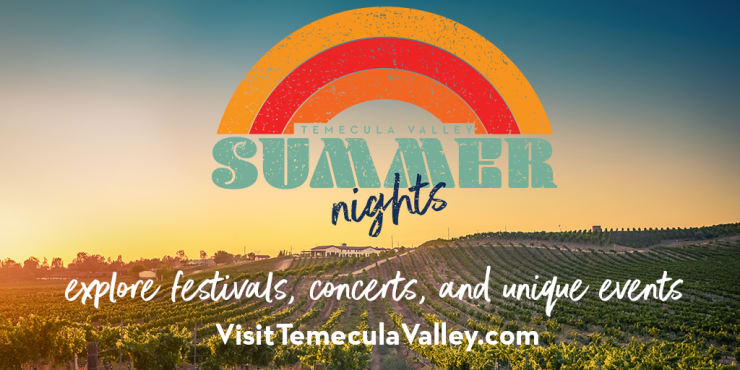 Celebrate the summer with headline concerts, live music, craft beers, local wines, and extraordinary dining during Summer Nights in Temecula Valley Southern California Wine Country. Temecula Valley resorts and hotels offer tempting weeknight room rates. The casual, picturesque Temecula Valley vacation destination is located 60 minutes from San Diego, Orange County and Palm Springs, and 90 minutes of Los Angeles.
This year, Summerfest is featuring Summer Nights because there is so much to do after the sun sets in Temecula Valley Wine Country, Old Town Temecula, and Pechanga Resort Casino. The fun begins by securing tickets for Sunday and Friday night concerts at Temecula Valley winery venues, Old Town Temecula Community Theater, and Pechanga Resort Casino. Summer Nights entertainment includes Newsies: The Broadway Musical, Elvis Costello & The Imposters & Blondie, Kenny G., Carly Pearce, and Rodney Atkins; as well as fan favorite tribute concerts, and live music throughout the Valley.
Historic Vail Headquarters will host several summer evening events: Starlight Bazaar showcases local music, art, food, culture, and horse drawn carriage rides every Friday night from May 31 through August 30; Thistle & Sage Vegan Marketplace will be on May 18, June 15, July 20, and August 17; and Ramble On at The Ranch classic car show is scheduled for August 3.
Other Summerfest activities include the 15th Annual Temecula Wine & Music Festival on May 25. The line up includes Rock Band Pablo Cruise, Patrice Rushen, Barbara Morrison, and more. There will also be eight wineries, and vendors making it a full day event.
The first weekend in June brings the Temecula Valley Balloon & Wine Festival to the forefront. This signature event is three days of entertainment, hot air balloons at sunrise, and evening balloon glows. The live music line-up is Shannon Rae & 100 Proof, A Thousand Horses, and Chase Bryant.
Summer fun continues June 15 at the Pechanga Microbrew Festival & Chili Cook-off. Guests will enjoy tastings from more than 30 award-winning micro and craft beers, live music, and chili samplings made by the chefs at Pechanga.
July lights up with a 4th of July Parade through Old Town Temecula followed by 4th of July family fun and fireworks at Ronald Regan Sports Park, boasting live music, food vendors, a kids' fun zone, and of course, a firework extravaganza in the sky.
Old Town Live will feature live music throughout its 12-block historic district every weekend from June to Labor Day. Venues throughout Old Town will showcase blues, rock, reggae, country, and Latin rhythms throughout the month. Old Town Live is ideal for overnight stays with several hotels within walking distance, including the newly opened Best Western Plus and Home2 Suites.
To find out more about Summerfest, its seasonal offerings, and to explore great room rates and accommodations, explore VisitTemeculaValley.com/summerfest.
ABOUT THE TEMECULA VALLEY AND VISIT TEMECULA VALLEY
Laid back, picturesque Temecula Valley Southern California Wine Country welcomes nearly three million visitors each year. It is a year-round vacation destination, located 60 minutes from San Diego, Orange County, and Palm Springs; 90 minutes from Los Angeles.
Temecula Valley Wine Country is widely recognized for its scenic vineyards, award-winning wines, and experiential wineries. The popular boutique destination includes the Temecula Valley A.V.A. (American Viticulture Area) as well as historic Old Town Temecula, and Pechanga Resort Casino. It also was named as a 2019 Wine Enthusiast 10 Best Wine Travel Destination.
Visit Temecula Valley is the region's official tourism marketing organization and resource for visitors. The Visitors Center is located in Old Town Temecula. For visitor information and assistance, please call (888) 363-2852 or go to VisitTemeculaValley.com.
###