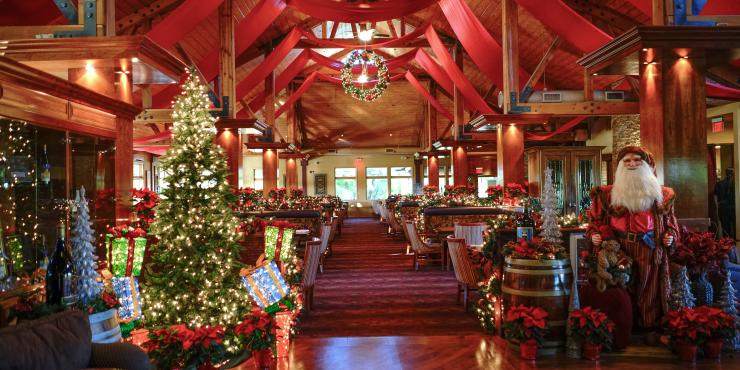 South Coast Winery Resort & Spa, idyllically located among vines that have produced thousands of celebrated wines, is a much-loved Temecula winter holiday destination. On Sunday, November 27, is the Annual Tree Lighting Ceremony with photo ops with Santa, seasonal eats, holiday beverages and entertainment for family and friends. The Vineyard Rose Restaurant's culinary team will present a contemporary gourmet Thanksgiving buffet created to please all palates, and along with luxuriating at the GrapeSeed Spa's heated outdoor saltwater pool and on its scenic veranda are two new treatment specials to enjoy – Chai Spice & Vanilla Massage and Pumpkin Comfort Facial. Of course, while visiting South Coast Winery, guests can sip exquisite award-winning wines from the winery's distinguished collection.
Thanksgiving Buffet at The Vineyard Rose Restaurant
Thursday, November 24, from 10 a.m. to 3 p.m.
This seasonal feast starts with the Appetizer Table featuring Assorted Artisan Cheese & Charcuterie with seasonal compotes, An Array of Vegetables with a choice of dressings and Fig and Blue Cheese on Focaccia. Shrimp, Mussels, Clams and sauces are offered at the Seafood Display, along with Goma Wakame and Calamari Salad, and there will also be a Smoked Fish Display. The Main Table has Short Rib Hash with chimichurri, Chocolate Red Velvet Pancakes with macerated strawberries and crème anglaise, Roasted Brussels Sprouts with bacon and maple glaze, Mashed Potatoes, Chestnut and Pancetta Stuffing, Green Bean Almondine, and Bourbon Sweet Potatoes, Caesar Salad and fancy gourmet Green Bean Salad with grilled radicchio, confit tomatoes, baby beets, Manchego cheese and sherry vinaigrette are on the menu. The Carving Station at this bountiful repast offers Porchetta with whole grain mustard jus, Traditional Turkey with gravy and cranberry sauce and Prime Rib au jus. In addition, the Omelet Station offers a wonderful list of design-your-own ingredients. At the Kid Station: Chicken Tenders with French Fries, Taquitos with Cheese Sauce and Steamed Broccoli with Cheddar Cheese. The chef will surprise and delight with yummy Thanksgiving Desserts.
$70 per adult, $35 for kids five to 13, plus tax and gratuity. Kids four and younger are free. Reservations are required at OpenTable or by calling (951) 719-8356. On Thanksgiving, The Vineyard Rose Restaurant will serve regular breakfast from 8 to 9 a.m. and regular dinner from 5:30 to 9 p.m.
Tree Lighting Ceremony in the Courtyard at South Coast Winery
Sunday, November 27, from 5 to 8 p.m.
This annual South Coast Winery Resort & Spa event is always packed with seasonal fun, delights and surprises for the whole family. The outdoor Tree Lighting Festival warms up hearty appetites with a wonderful variety of seasonally inspired dishes, assorted Christmas cookies and other delicious, festive desserts, along with a hot chocolate and cider station. Christmas carolers will provide live entertainment. There will be tractor rides, horse and carriage rides, arts and crafts and photo ops with Santa Claus. The exciting tree lighting begins at 6 p.m. Every year, South Coast Winery Resort & Spa gives back to the community and is proud to be an official Toys for Tots drop-off location. Guests are encouraged to bring new, unwrapped toys to donate to less fortunate kids.
Tickets are required for this event and will be on sale through the online store at southcoastwinery.com/activities/tree-lighting.
South Coast Resort's GrapeSeed Spa Beautiful Fall Specials
Available Monday to Thursday through December 15
It's the time of the year to rejuvenate, relax and prettify before all the Christmas doings. GrapeSeed Spa specialists will be giving two special treatments at special pricing.
Chai Spice & Vanilla Massage is a treatment designed to warm muscles and melt away stress with this cozy and comforting massage. A sweet and spicy oil is applied consisting of ginger, cardamom, black pepper and clove – all to promote better circulation and detoxify, while soothing any muscle and joint discomfort.
50 minutes for $155, plus tax and gratuity
Pumpkin Comfort Facial is a unique facial treatment that incorporates advanced botanicals, gentle exfoliating spicy pumpkin enzyme, soothing oat milk, honey extract and purifying sweet cherry extract. Created to help the skin retain vital moisture, it promotes a healthy glow while leaving skin feeling softer and more hydrated.
50 minutes for $150, plus tax and gratuity
Specials cannot be combined with other coupons, promotions and discounts. Appointments can be booked by calling (877) 552-1731.