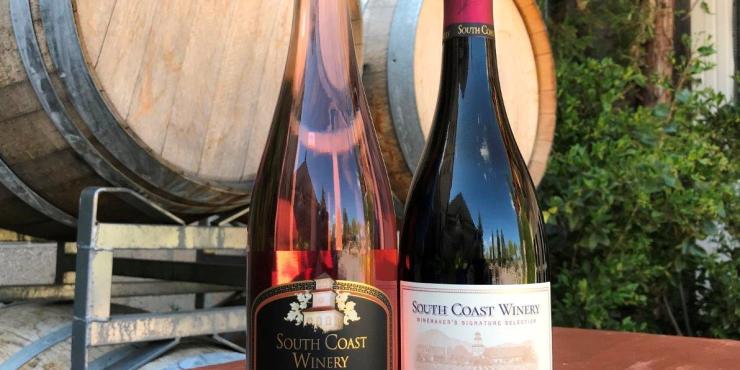 Competing with over 1,300 wine-producers at the 37th Annual San Diego International Wine & Spirits Challenge, held Apri1 6 and 7, 2019, South Coast Winery was awarded 10 distinctive recognitions for its wines. The competition, founded in 1982, is one of the longest-running wine competitions held in the United States.
Entrants included wineries from Napa, Sonoma, Temecula, Santa Barbara and other California producers, as well as U.S. competitors from Texas, Virginia, Oregon, Washington and Wisconsin. The international entrants included vintners from France, Italy, Spain, Chile, New Zealand, Australia, Austria, Mexico, Argentina and South Africa.
"I am particularly proud of our two platinum, three gold and five silver designations since the competition was so impressive and extensive in its global and national coverage," said Jeff Carter, president of Carter Hospitality which owns South Coast Winery.
South Coast Winery, which has accumulated over 3,000 accolades since its inception in 2003, earned prestigious designations for the following wines from its collection:
Platinum 94 points, 2018 Grenache Noir Rose Temecula Valley;
Platinum 94 points, 2017 Pinot Noir Santa Lucia Highlands;
Gold 93 points, 2014 Meritage Wild Horse Peak South Coast;
Gold 93 points, 2017 Pinot Grigio Temecula Valley;
Gold 90 points, 2015 Tempranillo Monastrell South Coast;
Silver, 2015 Cabernet Sauvignon Wild Horse Peak;
Silver, 2018 Sauvignon Blanc Temecula Valley;
Silver, NV Sparkling Gewürztraminer Temecula Valley;
Silver, NV Sparkling Pinot Grigio Temecula Valley;
Silver NV Vineyard Rose Sparkling Temecula Valley.
Wines are eligible for silver, gold and platinum awards, and numerical ratings are determined for all wines earning gold or platinum status. The competition recruits professionals from across the wine industry, including producers, sommeliers, winemakers, media and marketers as judges. For the 13th consecutive year, Michael Franz, editor of Wine Review, served as chief judge and executive director Robert Whitley and director Rich Cook tasted the winning wines and reviewed all wines awarded platinum. Reviews are published at Wine Review Online.
About South Coast Winery Resort & Spa
The only winery among the state's top wineries to claim the title of California Winery of the Year four times at the California State Fair Wine Competition, South Coast Winery Resort & Spa sets the gold standard for excellence amongst Temecula wineries, earning more than 3,000 awards since its inception in 2003. Situated on 63 lush acres, the resort offers a breathtaking retreat for wine tours, romantic getaways and group events with 132 rooms and villas, a working winery and tasting room, gift shop, full-service spa and restaurant.
South Coast Winery offers a broad portfolio of 45 wine labels, the majority of which are available for sampling in its main tasting room – from robust reds such as Tempranillo, Cabernet Sauvignon, Grenache, Petit Syrah, Merlot and Pinot Noir to whites including Sauvignon Blanc, Viognier, Pinot Grigio, Chardonnay and Riesling. Also available are sparkling wines, dessert wines and other specialty offerings. The winery employs a staff of skilled winemakers, including master winemaker Jon McPherson and winemaker Javier Flores, both with decades of experience in the wine industry.
For more information, visit www.southcoastwinery.com.
About Carter Hospitality Group
Established in 2011, Carter Hospitality Group, LLC is a family-owned hospitality company with seven hotels and resorts as well as three wineries across the United States. Based in Orange County, California, the company manages and owns a portfolio of luxury properties including South Coast Winery Resort & Spa, Temecula, California; Carter Estate Winery and Resort, Temecula, California; Harborside Suites at Little Harbor, Ruskin, Florida; Saratoga Resort Villas, Kissimmee, Florida; and Carter Creek Winery Resort & Spa, Hill Country, Texas (opening in 2019). Carter Hospitality Group additionally serves as the owner-franchisee for Red Lion Hotel Orlando-Kissimmee, Florida and Red Lion Hotel Lake Buena Vista South, Orlando Florida. For more information visit www.CarterHospitality.com.