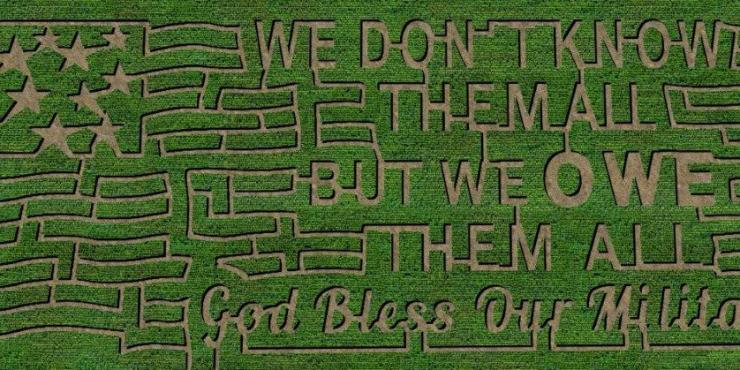 This 20-year tradition has attracted visitors from across the country. Big Horse Feed will once again hold its annual Harvest Festival, featuring the largest corn maze in southern California from September 28 through October 27, 2019. The Corn Maze is just one of the many seasonal activities that make Autumnfest in Temecula Valley Southern California Wine Country a top place to visit during the fall season. Weekday visits are highly recommended for less busy activities and better room rates. Located just about an hour from San Diego, Orange Country, Palm Springs, and 90 minutes from Los Angeles, Temecula Valley makes for a convenient getaway.
Visitors young and old are encouraged to find their way through the 11-acre corn maze at Big Horse Harvest Festival. The festival also includes hayrides, a corn cannon, pumpkin patch ripe for picking, kiddie rides, food vendors, a pie-eating contests, and so much more.
The Corn Maze traditionally has a military theme design. When asked the reason for doing so, owner Rose Corona says, "So they can see it when they fly over." Temecula Valley sits between Camp Pendleton and March Air Force Base so the path is often traveled by military aircrafts. "We don't know each of them personally, but we owe them for their service and sacrifice. It's a way for us to show we support them. Rose is the daughter of a World War II vet. Proceeds from the event benefit several veteran causes.
The Maize Inc., the largest corn maze company in the world, creates the design every year. "It's been an honor to work with our friends at Big Horse Corn Maze for nearly 20 years now to create their corn maze and help provide such a long-standing tradition and source of family memories for the many who have visited over the years," states Kamille Combs, Marketing Director, The Maize Inc.
Other events during the season include CRUSH Wine & Culinary Showcase September 28, Peltzer Farms Harvest Festival September 28 through October 31, Gunfighters Show every Saturday, Headless Horseman Haunted Hayrides at Vail Headquarters every Friday and Saturday evening, Ride In at the Ranch classic motorcycle and car show September 21, Old Town Outdoor Quite Show October 5, Greek Festival October 12 & 13, Battle of the Burgers October 19, and Thanksgiving dinning November 28.
Sip Sip Stay is a great way to try taste fall wines. The promotion includes one complimentary SIP Passport with a two-night stay, or two complimentary SIP Passports with a three-night stay. For more places to stay, check VisitTemeculaValley.com.
For more information about things to do this fall, go to VisitTemeculaValley.com.
About Visit Temecula Valley
Laid back, picturesque Temecula Valley Southern California Wine Country welcomes more than three million visitors each year. It is a year-round vacation destination, located 60 minutes from San Diego, Orange County, and Palm Springs; 90 minutes from Los Angeles.
Temecula Valley Wine Country is widely recognized for its scenic vineyards, award-winning wines, and experiential wineries. The popular boutique destination includes the Temecula Valley A.V.A. (American Viticulture Area) as well as historic Old Town Temecula, and Pechanga Resort Casino. It also was named as a 2019 Wine Enthusiast 10 Best Wine Travel Destination.
Visit Temecula Valley is the region's official tourism marketing organization and resource for visitors. The Visitors Center is located in Old Town Temecula. For visitor information and assistance, please call (888) 363-2852 or go to VisitTemeculaValley.com.