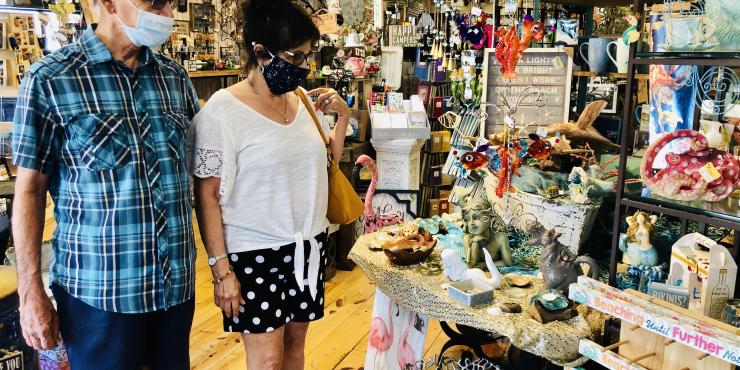 Shopping for holiday gifts during a pandemic can be challenging, but Visit Temecula Valley has shared some great gift ideas as well suggested places to shop online and in-person for unique items made in Temecula Valley. Many retail shops have specialty items that are locally produced like olive oils, personal care products, spice blends, handmade treats, wines, beers, and spirits. Temecula Valley shops have something for everyone.
Gift ideas from a few of the specialty shops in Old Town Temecula can be found at Temecula Olive Oil Company, Temecula Lavender Company, and Old Town Spice & Tea Merchants. Temecula Olive Oil Company sells locally grown fresh olive oils and blends as well as customizable gift boxes and gift certificates, which can be used toward a ranch tour. Pre-made gift boxes run from $28 to $92. "Everything But The Bread" gift set includes bottles of seasoned olive oils "Just Dip It and "Just Dress It" and jars of their most popular dips and spreads: caramelized onion fig spread, Parmesan artichoke tapenade, and Asiago Parmesan cheese dip for $74.95. These handmade gift boxes are available online at TemeculaOliveOil.com.
Temecula Lavender Company creates their own recipes to produce lavender products from their wine country farm.  They sell individual lavender items for the bath, skin, home, and kitchen as well as gift sets. The Travel Gift Set is great for trying a little bit of several items. It includes foaming bath, travel oil, Shea glycerin bar soap, bath salts, lemon lip butter, all for $24.95. Shop for these lavender products and more at TemeculaLavenderCo.com.
Old Town Spice & Tea Merchants carries items for the home chef, a connoisseur of fine teas, and the person who has everything. They have created aromatic and flavorful gift boxes, spicy samplers, and tea gifts. Some of their most popular house-made blends, quality loose-leaf teas, unique hot cocoas are packaged and ready for gift giving. Gift sets from $8.95 to $42.95 are available at SpiceandTeaMerchants.com.
A plethora of locally made beverages including wines, beers, or spirits are available for shopping online if gift givers aren't ready to travel. A few great holiday wine suggestions for giving or entertaining are Akash Winery 2019 Parlez Vous Rosé at $35, Carter Estate Blanc de Blanc Brut at $40, Chapin Family Vineyards 2017 Cabernet Sauvignon at $68, and a dessert wine from the oldest vineyard in Temecula Valley – Hart Winery Angelica at $75.
Batch Mead carries a Pie Mead gift box for $60 which includes four or five meads: Strawberry Rhurbarb Pie, Boysenberry Pie, Cherry Pie, Apple Pie, and Pumpkin Pie ranging from semi-sweet to sweet. Purchasing as a set is a $12 savings, available as soon as all the meads are released, anticipated date is November 19. Look for these new items on their website at BatchMead.com.
Galway Spirits offers several gift sets that contain their own distilled vodkas and gins. Their "Duet in Black" is on sale for $83.30 and includes their signature bottles of vodka and gin. Individual bottles of whiskey, bourbon, gin, and vodka blends are also available for purchase in-person. 
Refuge Brewery is releasing three beers for the holidays: Cranberry Cinnamon Sasion, Sweet Baby Jesus, and Holiday Beermeister IPA. Sweet Baby Jesus is a play on the movie Talladega Nights. This popular beer is released annually in December. It is a strong Double IPA with stone fruit/apricot and a dank.
For shoppers that decide to travel, they can visit where the products are produced and sample the goods. Temecula Valley Southern California Wine Country is open to those that want to shop in person. Suggested places to shop for great finds are Old Town Temecula and Promenade Temecula, as well as individual wineries, breweries, and distilleries. To create a shopping itinerary go to VisitTemeculaValley.com.
When shoppers get hungry they can dine al fresco at one of the 19 winery restaurants, in Old Town Temecula, or at Promenade Temecula. They all have delicious dining options and are conveniently located. When it's time to relax, the scenic beauty can be enjoyed in wine country while sipping on a glass of wine, or really unwind at GrapeSeed Spa at South Coast Winery Resort & Spa.
Southern Californians can book rooms in wine country, Old Town Temecula, or Uptown Temecula at VisitTemeculaValley.com for their shopping getaway.
ABOUT TEMECULA VALLEY AND VISIT TEMECULA VALLEY  
Temecula Valley is open and welcomes local visitors. The businesses have strict cleaning protocols to ensure everyone's safety and comfort because they consider the health of their employees and guests top priority. They have met and often succeeded county and state requirements. Face masks are strongly recommended when visiting and please be kind to the workers, they are doing everything they can to make the experience an enjoyable one.
Temecula Valley is a popular Southern California destination that includes Temecula Valley Wine Country, Old Town Temecula, and Pechanga Resort Casino. In 2019, Wine Enthusiast named it a 10 Best Wine Travel Destination. 
Visit Temecula Valley is the region's official tourism marketing organization and resource for visitors. For visitor information and assistance, please call (888) 363-2852 or go to VisitTemeculaValley.com.