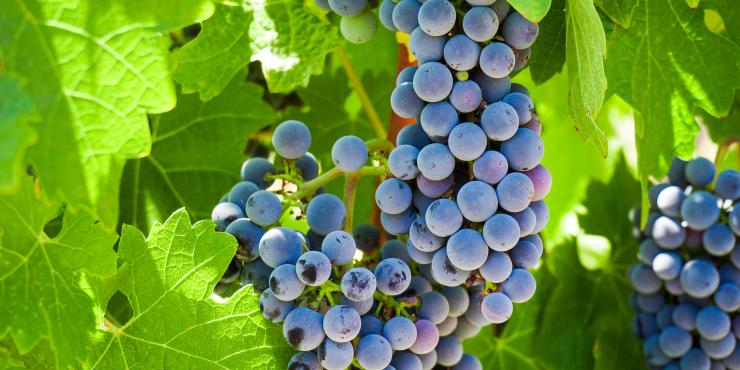 The wine world these days is full of choices. There are literally thousands of wine grape varieties in the world today, and so many different styles of wine to explore. It's a wine explorer's paradise out there! But with so many options often comes agonizing indecision. What to try?
Few wine regions represent an abundance of choice more than Temecula Valley, home to dozens of different grape varieties produced in a dizzying array of styles. Want light and crisp? Try a Temecula Valley Sauvignon Blanc. In the mood for something juicy and rich? Temecula Valley Tempranillo may very well fit the bill. What about bubbly? Temecula Valley's got that too. Choices, choices.
In an effort to help you narrow down what to try while exploring the region, just named one of the Top 10 Wine Getaways in the World by Wine Enthusiast Magazine, we've identified four shining stars that are worth discovering in Southern California Wine Country.
1. Arneis
This white grape variety hails from the Piedmont region of Northern Italy. In the region's local dialect, the name translates to "little rascal," presumably a moniker earned from the grape's relative fussiness when it comes to cultivation. In Italy, the grape is naturally low in acidity, producing dry, full-bodied wines when handled well.
In Temecula Valley, Arneis seems to offer more acidity than one might expect, and is capable of producing bright, fresh wines with notes of juicy pear, citrus, white flower blossoms and hazelnut.
Try Temecula Valley Arneis if you like: Pinot Grigio
Explore Temecula Valley Arneis at: Cougar Vineyard & Winery, Europa Village, Hart Winery
Pair it with: Creamy pasta
2. Vermentino
Vermentino is an aromatic white grape variety most associated with North Western Italy, Sardinia, Corsica and Southern France. Although Vermentino is considered a light, fresh wine, it can often boast some depth and unique characteristics such as a hint of bitter almond and a slight briny note that brings to mind picnic lunches by the seaside.
In Temecula Valley, Vermentino finds a richness that makes it equally at home by itself or paired with food. It is fleshy and fruity, with aromas of ripe, juicy apple, white peach, pink grapefruit and lime zest.
Try Temecula Valley Vermentino if you like: Sauvignon Blanc
Explore Temecula Valley Vermentino at: Danza del Sol Winery, Europa Village, Robert Renzoni Vineyards, Thornton Winery, Wiens Family Cellars
Pair it with: Seafood
3. Sangiovese
Sangiovese is Italy's most planted wine grapevine, and particularly common in central Italy where it is the principal grape in Chianti. It has many different clones and is capable of producing easy-drinking, fruity table wines or more complex, premium wines intended for aging, like Brunello di Montalcino and Vino Nobile di Montepulciano, depending on where it is grown and how it is produced.
In Temecula Valley, Sangiovese rarely takes on a simple quality. Instead, the wines are rich and full-bodied, displaying ripe fruit and plenty of textures and aromas from oak treatment. The Sangiovese grape is truly at home in Temecula Valley, with many visitors even comparing the terrain to the rolling hills of Tuscany.
Try Temecula Valley Sangiovese if you like: Cabernet Sauvignon, Cabernet Franc, Nebbiolo
Explore Temecula Valley Sangiovese at: Lorimar Winery, Palumbo Family Vineyard & Winery, Ponte Winery, Robert Renzoni Vineyards
Pair it with: Pasta & pizza
4. Syrah
This robust, rather prolific grape is probably most associated with the Rhone Valley and Australia (where it is know as Shiraz), but it grows all over the world. Wine icon Jancis Robinson, declares Syrah, "One of the noblest and most fashionable red wine grapes, if nobility is bestowed by an ability to produce serious red wines capable of aging majestically for decades and if fashionability is measured by the extent to which new cuttings have been going into the ground all over the world."
Syrah finds truly exceptional expression in the warm, Mediterranean climate of Temecula Valley and the best are certainly capable of aging right alongside their prestigious cousins in France. Southern California Syrahs are robust and expressive, with gorgeous texture and structure, firm tannins, spice and the signature black pepper note we all know and love in Syrah.
Try Temecula Valley Syrah if you like: Malbec, Cabernet Sauvignon or Tempranillo
Explore Temecula Valley Syrah at: Doffo Winery, Hart Winery, Leoness Cellars, Lorenzi Estate Vineyards & Winery, South Coast Winery
Pair it with: A juicy steak or rack of lamb, or a mushroom-based risotto