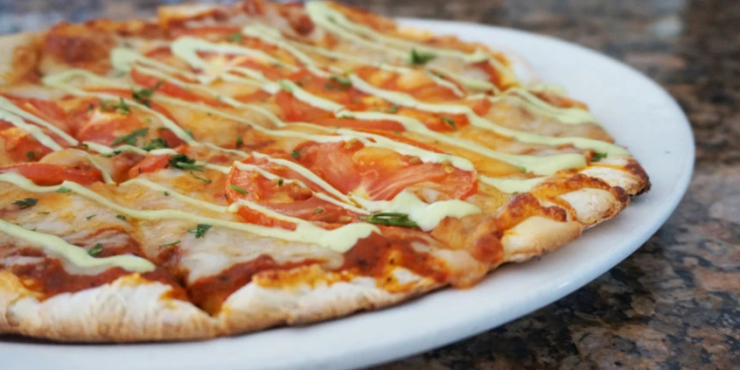 Last year it was all about the burger, but this year it's flatbread pizza time at the 7th annual Temecula Valley Restaurant Month.
Unlike previous years, like 2017, when restaurants featured several items, this installment will focus on one item to make it easier on participating eateries.
"We told the restaurants to have fun and get creative with the flatbreads," Annette Brown, public relations director for Visit Temecula Valley, said. "And people love flatbread pizzas."
The event has downsized from 32 participating restaurants last year to 10 this year because of time constraints, Brown said.\
"We've been so busy with this being the 50th anniversary of Temecula Valley Wine Country that we didn't have as much time to devote to restaurant month," Brown said. "But restaurants can sign up through the end of the month, so we think more will come on board."
Seven participating eateries are at wineries in Temecula Valley Wine Country.
Participating restaurants, and highlights of their offerings, include:
Annata Bistro/Bar at Mt. Palomar Winery: 33820 Rancho California Road. 951-676-5047, mountpalomarwinery.com.
Margharita: Rustic tomato sauce, mozzarella, tomatoes, and basil créme fresh; Annata Spanish:  house Romesco sauce, Spanish chorizo, rustic sliced potatoes, red onions, and Manchego cheese.
Avensole Winery: 34567 Rancho California Road. 951-252-2003, avensolewinery.com.
Pear and pecorino: Arugula, candied walnuts, pears, pecorino cheese and pomegranate seeds.
Bistro at Monte De Oro Winery: 35820 Rancho California Road. 951-491-6551, montedeoro.com.
Portobello and cheese trio: Crème Fresh, sautéed balsamic marinated portobello mushroom, mozzarella, feta, and shaved asiago cheeses with arugula tossed in house balsamic vinegar.
The Greek: Extra virgin olive oil, roasted garlic, grilled artichoke, roma tomatoes, olives, roasted bell peppers, feta cheese and shaved capicola.
The Cellar Lounge at Ponte Vineyard Inn: 35001 Rancho California Road. 951-587-6688, pontevineyardinn.com.
Margherita pizza: Pizzaiolo tomato sauce, roma tomatoes, fresh mozzarella, basil and olive oil.
Winter vegetable bianco pizza: Roasted butternut squash, mushroom, mozzarella, ricotta, goat cheese, baby arugula and cranberries.
Sausage and meatball pizza: Pizzaiolo sauce, chorizo, salami, pork meatball, roasted peppers, onions, mozzarella and parmesan.
Devilicious Eatery & Taproom: 28693 Old Town Front St., Suite 104, Temecula. 951-506-4024, deviliciouseatery.com.
Pear and Gruyere: Pear, caramelized red onions, mozzarella and gruyere cheese, balsamic glaze, smoked pork belly, housemade bourbon barbecue sauce.
 E.A.T Marketplace: 28410 Old Town Front St., Temecula. 951-694-3663, eatmarketplace.com.
Plant based loco flatbread: Roasted sweet potato, caramelized onions, goat cheese, pomegranate and brown butter drizzle, turkey chorizo, avocado,  cilantro and persimmon.
Flowerhill Bistro at Miramonte Winery: 33410 Rancho California Road. 951-506-5500, miramontewinery.com.
Cheese and pesto: Imported triple cream brie and Maytag blue and herb pesto.
Roast veggie: Herb-roasted fresh vegetables, fresh garlic and balsamic drizzle.
Roast chicken: Roast chicken, chimichurri, caramelized onion and cilantro.
Margherita: Marinara, mozzarella, roma tomatoes, fresh basil and garlic basil oil
UltiMeat: Nduja spread, marinara, mozzarella, genoa, calabrese, barolo, roasted red peppers and cherry pepper oil.
Roasted cauliflower: red curry pizza sauce, roasted caulifolower, mozzarella topped with wine rice vinegar marinated vegetables.
Garage Brewing Co.: 29095 Old Town Front St., Temecula. 951-587-2573, garagebrew.com.
White Wall: Alfredo sauce, mozzarella, chicken, dried cranberries, tomatoes, red onion and gorgonzola cheese.
Chocolate hazelnut: Chocolate hazelnut spread sprinkled with powdered sugar.
Lazy Dog Restaurant & Bar: 40754 Winchester Road, Temecula. 951-719-1884, lazydogrestaurants.com.
Mushroom and bacon crisp: Housemade cream sauce, mozzarella, blue cheese, bacon, caramelized onions balsamic, fresh thyme.
Meritage at Callaway Winery: 32720 Rancho California Road. 951-587-8889, callawaywinery.com.
Prosciutto with goat cheese:  Fig, pomegranate, arugula with a balsamic reduction.
Vineyard Rose Restaurant at South Coast Winery Resort & Spa:  34843 Rancho California Road. 951-566-4622, wineresort.com.
Blackened chicken: Mozzarella cheese, cippolini, grilled artichoke, pesto spread and oven roasted tomatoes.
https://www.pe.com/2018/01/15/flatbreads-reign-supreme-at-7th-annual-temecula-valley-restaurant-month/