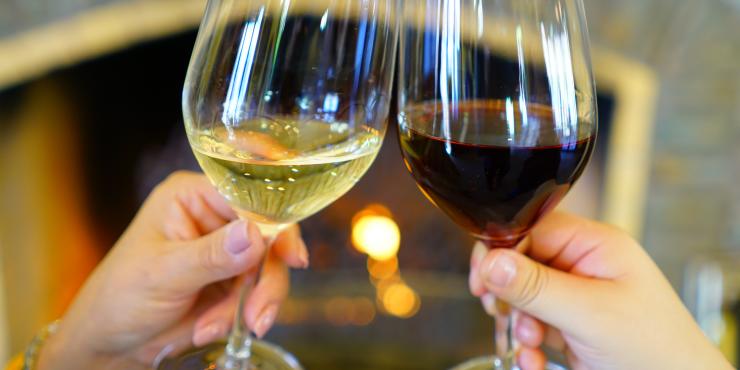 As summer comes to an end and pumpkin spice starts creeping into foods and beverages, it's time to turn our palates to fall flavors, especially when it comes to wine. Harvest is under way and this year's grape crop is getting picked and processed into a new vintage. The cooler weather is a welcome change as the next phase in the life cycle of the grape begins. Whether you love the classics or are itching to try something new and unique, you're bound to find something you like in this list of favorite fall wines.
Grape: Chardonnay
What it's like: Chardonnay is a wonderfully versatile grape that comes in so many different styles, from crisp and clean with notes of green apple and citrus, to rich and buttery, dripping with tropical fruit and caramel, and everything in between.
Why we love it: Although classically linked to the Burgundy region of France, Chardonnay is actually the most-planted white grape in the world, growing in every region wine grapes are planted, including Temecula Valley. Chardonnay is the perfect departure from the light and zingy whites of Summer. It's got a little more body and takes on a wide range of dishes depending on the style of the wine.
Some to try:
2017 Robert Renzoni "Barile" Chardonnay, $28
A complex and elegant wine, boasting hints of baked apple, buttered toast and hazelnut.  Aged for 10 months in 40% new French Oak.
2018 Oak Mountain Chardonnay, $24
This Chardonnay is only slightly oaked, imparting delicate flavors of vanilla, butterscotch and caramel, mingled with apple, pineapple, honey and vanilla. A dream paired with roast chicken.
2018 South Coast Winery Chardonnay "Sans Chêne," $16
Translating to "without oak," this Chardonnay is bright and clean, with notes of Honeycrisp apple, citrus zest, and jasmine blossom and a long, mouth-watering finish.
Grape: Viognier
What it's like: Viognier is a red-wine drinker's white. It's rich, luscious and full-bodied, with powerful and unmistakable floral aromatics.
Why we love it: Viognier originated in Southern France and the Rhône Valley, and thrives equally well in the soils and climate of Temecula Valley. Like Chardonnay, it tends to have more weight than other whites so can stand up to some of the richer flavors of Fall.
Some to try:
2018 Doffo Winery Concrete Fermented Viognier, $32
This vibrant wine's aromatics explode with bright floral notes on the nose, delighting the senses as it hits the palate. An elegant backbone of acidity balances out the soft tones of honeysuckle and apricot.
2018 Monte de Oro Viognier, $23
Ripe stone fruit meets tropical aromas and notes of apple blossom in this rich bottling. The luscious and layered palate of this wine makes it a great match for exotic cuisines like spicy Thai and Indian dishes.
2018 Europa Village Viognier, $35
While Viognier is sometimes fermented in oak, this bottling was done in stainless steel in order to let the pure, rich fruit character prevail. Aromas of ripe nectarines, orange blossoms and a hint of fresh herbs flow into a soft and balanced palate with long-lasting, tingling acidity. This wine is perfect for sushi night with family and friends.
Grape: Cinsault (also Cinsaut)
What it's like: For those that prefer lighter bodied wines like Pinot Noir and Gamay. Hailing from Southern France as well, this grape is capable of producing elegant, complex wines with juicy red fruit and unique savory notes when handled well.
Why we love it: It's juicy, it's easy-drinking and it's great with all kinds of fall dishes. If you're not ready for summer to be over, you can even serve it with a slight chill.
Some to try:
2014 Fazeli Cellars "Phel Phel" Cinsault, $38
A true cherry pie of a wine! Bright red stone fruit with subtle hints black pepper, cigar and spice. Medium bodied with soft but ample tannins.
2016 Wilson Creek Winemaker's Select Cinsault, $60
This Temecula Valley Cinsault displays lively floral and ripe strawberry aromas on the nose, and a lush, warm palate balanced by an elegant structure. A perfect food wine, pair this with pizza, pasta, cheese and charcuterie.
2016 Leoness Cellars Cellar Selection Cinsaut, $28
This bottling is bursting with aromas of cherry and raspberry with hints of black licorice and spice. The wine is soft, elegant and approachable thanks to the addition of a light touch of Syrah & Grenache and 18 months spent in small French Oak barrels.
The Grape: Cabernet Franc
What it's like: Cabernet Franc is one of Cabernet Sauvignon's parents (the other being Sauvignon Blanc), and yet it is often overlooked in favor of its more famous offspring. Known for its role in Bordeaux blends, it stands alone quite well, offering savory notes of bell pepper, green herbs, graphite, berry fruit and cedar.
Why we love it: Cabernet Franc has the benefit of being both age-worthy and drinkable now. Its medium-bodied structure makes it a great food wine, but it also holds up to serious oak treatment quite well, giving it a wide range of different possible styles depending on how it is handled. 
Some to try:
2016 Baily Winery Cabernet Franc, $35
Baily Winery is known for their traditional, Old World take on winemaking and this Cabernet Franc is no exception. Ripe berry and plum mingle with exotic spice and black pepper and a touch of forest floor. This is a wine to linger over now or put away for several years to let it develop.
2015 Thornton Cabernet Franc, $41
Notes of crushed raspberries, black currants, violet and graphite are prominent on the nose, backed by a pleasant green bell pepper note. This Cabernet Franc is medium-bodied with well-integrated tannins and a smooth mouthfeel.
2016 Hart Winery Cabernet Franc, $28
A balanced wine with crisp acidity and bright fruit reminiscent of Cabernet Franc wines from France's Loire Valley. Notes of green olive, clove, raspberry and violet on the nose are followed by tart berry fruit and licorice, backed by firm, elegant tannins on the palate.