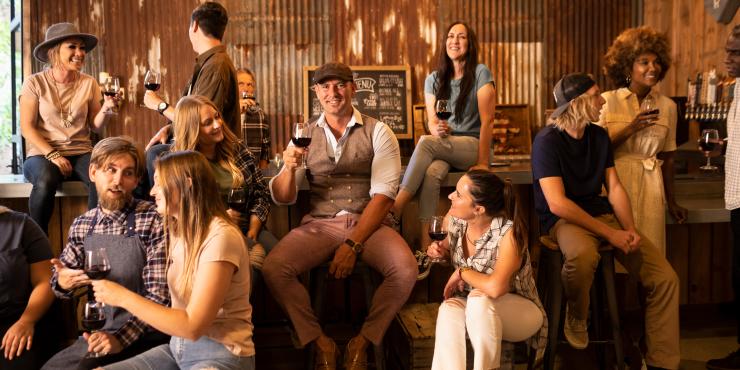 Plan a visit to Temecula Valley Southern California Wine Country for food, wine, entertainment, and unique harvest-themed activities during the changing of colors on the vines. The Mavericks & Makers behind fall events and activities bring the season to life in Temecula Valley. Visitors are encouraged to extend their stay around these fall events to get the most out of the experience. Find out where to stay and start planning your trip at VisitTemeculaValley.com.
DRINK + FOOD
A couple of wines that pair nicely with the fall season suggested by local experts include Bel Vino Winery Late Harvest Blanc. "What better way to experience fall than with a late-harvested, intensely flavorful and aromatic Late Harvest Blanc," says Mike Janko from Bel Vino Winery. "The relatively high sugar levels balanced by bright acidity make it great for sipping or to be enjoyed as a dessert wine."
Grapes harvested later in the season have a chance to develop rich, ripe aromas and accumulate high sugar levels. When pressed and vinified the resulting wines are lusciously sweet and make a stellar pairing for salty cheeses and dessert courses.
"Around this time of year, I'll often reach for a white wine with a little more weight to it – our Leoness Viognier being a favorite," says Leoness Cellars Executive Director, Spencer Szczygiel. He explains that the Viognier's stone fruit and spice notes pair exceptionally well with heartier fall salads like peppery greens with apple, blue cheese, nuts and grilled chicken.
Craft beers are not to be overlooked when in Temecula Valley. Here are a few great beers to cheers to this season. Iron Fire Brewing Company offers a 6 Killer Stout, which is a hazelnut coffee stout with 6% ABV and 60 IBU. Pumpkin Patch is a seasonal offering at Refuge Brewery. This popular Belgian style Saison is brewed with real pumpkin, pumpkin spices and aged on charred whisky staves. A Stone Church recommendation is their Redemption Red. This American Amber has a moderate malt flavor with a slight sweet finish and a hint of chocolate. Coppery brown in color the aroma is accentuated by Amarillo, Cascade and Centennial hops. Also, Batch Mead's best-selling pie series launches Oct 16. Their sweet meads pie themes are blueberry pie, peach pie, apple pie, strawberry rhubarb pie, and pumpkin pie.
Nearly five years ago a couple, Ricky and Kim Leigh with an already successful gastropub in Temecula decided to expand by opening a restaurant that put fun and adventure on the breakfast menu. Toast Temecula is a family affair, all the furniture was built by the owners, the paintings on the walls were done by staff members, and the concept and idea evolved from the Leighs. Ricky is also the head chef creating appetizing fall foods like Apple Pie French Toast and Smoked Veggie Benedict, which is a potato cake, poached eggs, smoked red bell pepper, asparagus, snap peas, alfalfa sprouts topped with classic hollandaise sauce. Both can be accompanied with a flight of bacon and washed down with an Espresso Martini or a Mimosa Flight.
Chef Matthew Steffen at Cork|Fire Kitchen will be making fall pies this season with pumpkins he has been growing in the garden at Temecula Creek Inn. Chef's passion for food grew from his first job in a kitchen at age 15. After serving in the Navy, he returned to the industry as a prep cook and his talent led him up the ranks and landed him as Executive Chef at Temecula Creek Inn.
By age 24, Chef Nick Talls had worked his way up to head chef of a fine dining restaurant. He later worked five years in Hong Kong and Macau, working three years as Sous Chef of a two Michelin star French restaurant. After moving back to the United States and gaining more experience at acclaimed restaurants, Executive Chef brought his 20-plus years of experience and passion for beer and breadmaking to Oscars Brewing Company. Their sharable seasonal menu includes favorites like Cheese Stuffed Plantain Fritters with melon gazpacho, fresh herbs pineapple, red onion and chili oil; and Pork Belly and Peach Roasted Potato Pizza with Shisto peppers, chili oil, tomato sauce, aged mozzarella and smoke scamorza cheese.
Holiday travelers can enjoy a Thanksgiving feast in Temecula Valley. Whether you're celebrating Friendsgiving or Thanksgiving with friends and family, Temecula Valley makes for a stress-free holiday getaway. Restaurants offering a Thanksgiving meal for dine-in and/or to go are Cork|Fire Kitchen, E.A.T. Marketplace, The Gambling Cowboy, The Vineyard Rose, and Pechanga Resort Casino at Great Oak Steakhouse, 1882 Cantina, Kelsey's, Journey's End, Paisano's and Pechanga Café.
Entertainment
The Old Town Temecula Community Theater began as a community effort to preserve a historic mercantile building and build a new theater that would grow its emerging arts and culture movement. This venue now entertains nearly one million visitors since opening in 2005 with world-class accessible performing and visual art performances. The Merc is a club-style 48-seat space while the proscenium theater seats 354. The residents that raised funds and volunteered numerous hours proudly invite visitors to watch the performances and enjoy the arts.
Kawika Kahiapo & Bobby Maderow will perform at Old Town Temecula Community Theater on October 30. These are two of Hawaii's most beloved Slack Key performers and they will create a night of Hawaiian magic in Temecula. Kawika Kahiap  is a Grammy award-winning master slack key guitarist, who will be sharing his passion for ki ho`alu (slack-key guitar). Founding member of the six-time Nā Hōkū Hanohano Award-winning group Maunalua, Bobby Moderow, Jr. is a renowned slack key guitar and falsetto artist.
Backhausdance, formed in 2003 by Jennifer Backhaus, is known for its lush movement vocabulary and ensemble aesthetic. Featuring deeply human and emotional creations that are infused with a sense of humor and theatricality, Backhausdance is the recipient of 10 Lester Horton Awards from Dance Resource Center of Los Angeles for achievements in choreography, design, and performance, helping propel them to the forefront of Southern California's contemporary dance scene. Grounded in an eclectic and dynamic vocabulary with a wonderful sense of fluidity and strength, the company's repertory includes powerful, athletic dances, emotionally charged dramatic pieces, and whimsical, humorous glimpses at the human experience. They will also perform at Old Town Temecula Community Theater on November 20.
EVENTS
Peltzer Farms
The Peltzer Family agricultural roots go back to the early 1900s when they were farming wheat in Kansas. Later, in 1954 Grandpa Peltzer sold his 20-acre citrus farm in Anaheim, CA to Walt Disney. He then started Peltzer Pines and 33 years later started Peltzer Pumpkin Farm. In 2002, they purchased an abandoned Christmas tree lot to move their pumpkin farm to Temecula Valley. Today they celebrate their 25th anniversary of the farm and five years of Peltzer Winery, adjacent to the farm.
Their pumpkin farm is now open with a fun filled pumpkin patch, kiddie train rides, gem mining, a tractor garden, games and more. Also, their annual ice rink opens November 15. It was always owners Charlie and Carrie Peltzer's vision to provide agri-tainment and they are doing just that.
Temecula Terror
What started as twin brothers having fun scaring the local kids in their front yard as a Halloween pass-time, has evolved into a full-fledged haunted attraction production company, taking their marquee vintage aesthetic with them everywhere they go. The Bloodshed Brothers delved into the world of professional haunting in 2011. Now, the company is joined by Cleve Coven, three like-minded women who created their own Creative Haunt Agency, working behind the scenes on its newest project Temecula Terror, bringing scares to Galway Downs during the month of October.
The two companies banded together to create an indie haunt with local roots at Galway Downs in Temecula Valley Wine Country. They say they've created more than just a collection of "haunted houses," Temecula Terror dives deep into the history of the Valley and the small-town characterization that many locals and visitors hold dear, to create a spooky alternate reality, a trip back in time to a small-town Halloween experience unlike any other. There is a pumpkin patch, carnival games, trick-or-treating, food and more. Then at 7:00pm, as the sun starts to set and hide behind the rolling hills, the sinister scares begin as the monsters and ominous spirits are unleashed. Temecula Terror will deliver frights for 19-days with 3 mazes, 2 bars, 1 VIP Bar, nightly live DJ and entertainment, carnival games, local food trucks, a pumpkin patch, and a scare zone with roaming monsters.
CarnEvil Ball
A CarnEvil Ball at Europa Village's newest winery, Vienza, on October 28 will transport guests onto the eerie streets of Venice with their twisted take on a Carnival. This is their inaugural Halloween event with a curated selection of craft cocktails in a Spookeasy along with ghoulish delights, a DJ, a costume contest, and more. Europa Village's story began in the 1970s when a young businessman, Dan Stephensen, visited Europe and fell in love with the countryside, the food and wine, the culture and lifestyle. Thirty years later, Dan and his friend purchased more than 300 acres of land in Temecula Valley Wine Country. That's when his dream began to take life. Europa Village was born and the strategy for a multi-winery resort began rolling out. Vienza is the second of their three destination wineries.
Ralph Love Plein Air Festival
Ralph Love was a painter of the West. He was a lifetime member of the Society of Western Artists. For many years, he taught as well as painted. On rainy days, the class would meet in the old Art Shack in Temecula, which Love opened in the mid-1950s. It was from his Art Shack that his work received national recognition. In 2005, the Temecula Historical Society installed and dedicated a bronze plaque on the old Art Shack site.
Ralph Love Plein Air Festival celebrates the artistic heritage of Temecula Valley with an outdoor painting and art competition. This year artists chose to paint at one of three locations: Old Town Temecula, Temecula Valley Wine Country or one of Temecula Parks. Entries will be on display in The Gallery at The Merc from November 3 to November 28. A public reception with live music and refreshments will be held in The Merc on November 12 at 5:00 pm. Competition awards will be announced at the reception.
Headless Horseman Haunts Temecula
Legendary tales of the Headless Horseman may be found true as families take a wagon ride through Wine Country Hollow. This family-friendly ride encounters the infamous legend as well as a variety of other spooky sites during the Headless Horseman Haunts Temecula event.
Ever since owner Marika Matson was a young girl, her life revolved around her love of horses. She eventually turned her passion into a thriving horse-centric business and founded Temecula Carriage Company in 2007. Looking for new ways visitors can enjoy her horses, in addition to offering wine tours in horse drawn trolleys and carriage rides, she and her husband created seasonal equestrian experiences.
Ken and Brandie Newman recently purchased Stampede and immediately started renovations to give the building a fresh makeover without changing the dynamics that so many people have enjoyed for decades. It wasn't long before they were hosting their first Country Music Festival with artists Billy Ray Cyrus, Chris Jason, Walker Hayes and more. They are now doing an Oktoberfest at Stampede on October 9 and 10, 2021. The weekend will include Bavarian bands, authentic food, German bier and games.
In 2019, dedicated members of the nonprofit Santa Rosa Plateau Nature Education Foundation and staff created an event that features some of the finest homemade craft beers in Southern California as a fundraiser to help thousands of youth learn about nature and the reserve. Rooted in Nature Craft Brew Festival will promote and educate attendees on craft beer and the brew masters that create them, and it is the perfect opportunity for beer geeks, beer lovers and beer beginners to speak to the brains behind the brews. It will also be a chance to discover and taste new brews and special "limited release" beers and ales with more than 25 breweries represented. There will be unlimited pours, food trucks, beer games, live music, family wildlife park, homebrewed sodas, gourmet cheeses and chocolates, Temecula Valley Wine Garden, interactive youth activities, and a silent auction.
De Portola Wine Trail is a popular "wine row" in Temecula Valley Wine Country with 12 wineries nestled in the foothills and perched on hilltops. These winery owners came together to create their own special annual wine event. De Portola Wine Trail Harvest Festival is on November 7 and will feature noshes from 10 local artisan chefs, each offering their specialty. Every sample is expertly paired with three wines from each participating winery. Guests can opt to hop on the special Harvest Shuttle provided by Grapeline Wine Tours, with pickups at hotels and many vacation rentals.
Visit Temecula Valley asks visitors to travel responsibly and kindly. Please leave no trace, explore the roads less traveled, respect the local community, drink responsibly, stay on roads and footpaths, support local businesses, make a positive impact by spreading kindness and be mindful of natural elements and advisories.
About Temecula Valley & Visit Temecula Valley
Temecula Valley Southern California Wine Country is a year-round vacation destination pouring award-winning wines as well as craft beers and spirits. Its where people live glass full behind the scenes and under the spotlight. Temecula Valley is made up of a community of Mavericks and Makers that are telling their stories, their way. Stories they carry around in their hearts and minds, and the ready to share with the world with enthusiasm and passion.
The emerging and evolving culinary scene, small town atmosphere, and outdoor recreation and entertainment in Temecula Valley Wine Country, Old Town Temecula, and Pechanga Resort Casino culminate to create a spirited destination inspired by the vine.
Temecula Valley is located in the center of Southern California just 60 minutes from San Diego, Orange County, and Palm Springs; 90 minutes from Los Angeles.
Visit Temecula Valley is the region's official tourism marketing organization and resource for visitors. The Visitor Center is located in Old Town Temecula. For visitor information and assistance, please call (888) 363-2852 or go to VisitTemeculaValley.com.