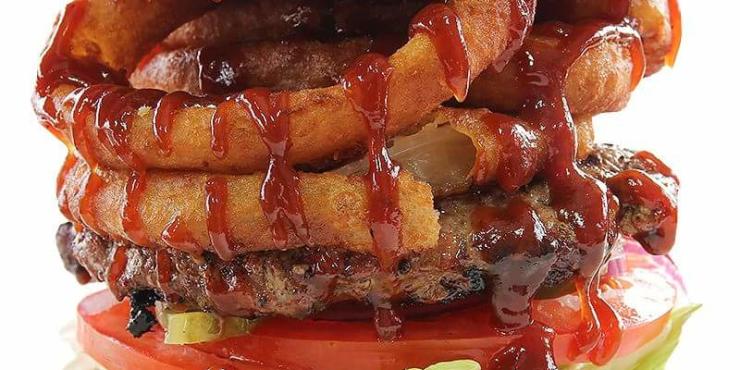 Visit Temecula Valley held its first Battle of the Burgers on Friday, July 14 at Town Square Park in Old Town Temecula. Fifteen restaurants located in Temecula Valley competed for the championship title and the golden burger trophy.
Restaurants that participated in the competition were 1909, The Restaurant at Avensole, Baily's, E.A.T. Marketplace, Heart of the House, Journey's End at Pechanga, Karl Strauss, Kelsey's at Pechanga, Lazy Dog, Lucille's Smokehouse BBQ, Mad Madeline's Grill, Pinnacle Restaurant at Falkner, The Public House, Red Robin and Tilted Kilt.
"We like to continuously push the trend," states Kyle Scimone, Sous Chef at PUBlic House. "Entering a competition like this isn't about winning; it's about showing people what we bring to the table, literally and metaphorically."
Visit Temecula Valley is promoting the creative tasty burgers offered this summer throughout Temecula Valley. Local chef's went all out with mouth-watering ingredients like angus beef, wagyu beef, ground brisket, top sirloin, beef short ribs, remoulade sauce, jalapeno relish, edamame ginger wasbi spread, vanilla chutney, bourbon bacon IPA mushrooms, roasted poblano chilies, beer-brined bacon and citrus-marinated tomato.
The FIRST PLACE title for Battle of the Burgers goes to Mad Madeline's Grill for their Tractor Racer Burger, located in Old Town Temecula. "We're just a normal, hometown business," says owner Sid Hamilton. "After 27 years in the business, we know our meats, we know what kind of meat to use and the quality. The secret is charbroil. The Tractor Racer is a half pound beef patty with homemade BBQ sauce, special seasoning, topped with a thick  beer-battered onion ring.
SECOND PLACE goes to PUBlic House for their Public Kobe Ashi, and THIRD PLACE goes to Lucille's Smokehouse BBQ for their Smokehouse BBQ Burger. All three burgers will be featured in Visit Temecula Valley's Burgers & Beer summer campaign.
All the burgers were nothing short of amazing. Visit Temecula Valley encourages residents and visitors to stop by and try each one, located at The Promenade Temecula, Old Town Temecula, Temecula Valley Wine Country, Pechanga Resort & Casino and Heart of the House in Tower Plaza. For more information about the restaurants in Temecula Valley, please explore VisitTemeculaValley.com.
About Visit Temecula Valley
Visit Temecula Valley is the region's official tourism marketing organization and an online resource for visitors at VisitTemeculaValley.com. Temecula Valley Visitors Center is located in Old Town Temecula (Third Street and Mercedes). For visitor information and assistance, call (888) 363-2852 or (951) 491-6085.
###