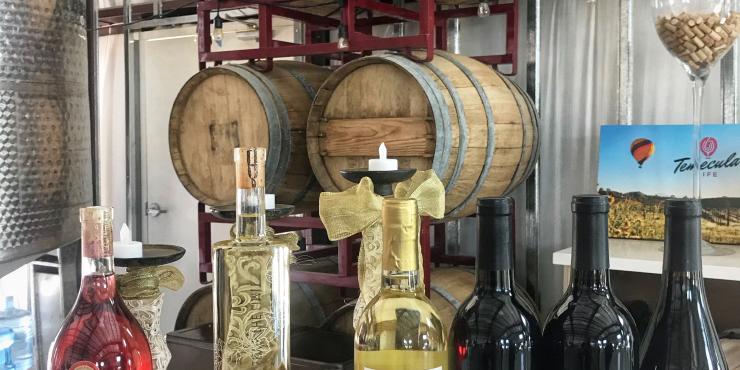 By: Brittany James - Always5Star Jr.
Akash Winery – Five Reasons To Visit The Akash Winery in Temecula, California
Sunday Jul 15, 2018 | Always5Star Champagne & Wine
One of the things I love about my hometown of Temecula, CA is the beautiful Temecula Valley Wine Country! You feel like you are in a distant land when you visit here! From the rolling hills covered in vineyards and the hot air balloons dotting the horizon, to a variety of wineries decorating the roadside, it is a special place!. There are always new wineries popping up. We (Always5Star and I) had the privilege of visiting one of the newer ones to the Temecula Valley – Akash Winery.
Now, when you're a stay-at-home mom of two kids, a winery is like your Disneyland so you can imagine my excitement to tour Akash Winery! A day away from the kids (I do love them, I promise) plus wine…I wouldn't miss it for the world!
Here are my five reasons for making sure you don't miss out on this wonderful winery:
🌟 Their Story
Akash Winery is family owned and operated. A father and son duo, Ray and Akash both had a dream of starting a winery. In 2012 they bought 20 acres of land in Temecula to turn their dream into a reality! We met Akash when we visited, and it was so fun to hear his story! You can really feel the passion he has for this business!
🌟 Special Events
Akash Winery knows that wine is more fun when enjoyed with family and friends, especially new ones! Before planning your visit, check to see if they have any events during your scheduled visit timeframe.
August 1st, 2018 is the first ever Rosémaste event! If you love yoga and rosé, then that is the perfect event for you!
Visit https://www.akashwinery.com/events/ for more info on upcoming events!
🌟 Décor
One of my favorite things about the different wineries in Temecula is seeing how each one of them decorate their space! I loved the vibe at Akash. I would describe it as industrial chic. For example, stainless-steel wine barrels lined one of the walls. The decorative touches were perfect! They have Jenga and a large-scale version of Connect 4! The cocktail tables throughout the room encourage you to mingle and meet a new friend or three! One of my favorite decorative elements was the artwork on display. The pieces were beautiful! I felt so sophisticated sipping on wine while examining the brush strokes and details of a photo! Much different than what I usually investigate when home with the kids!
🌟 Wine
I saved the best for last! The fourth and fifth reasons to visit Akash are two of the wines we tasted – a Sauvignon Blanc and a Rosé! Now, I must admit, I am not an educated wine taster. While others are talking about the different tasting notes, all I can tell you is if I like it or not. I enjoyed their wines, and I also love their label designs!
My Mom (Always5Star) was with me tasting this day. I will offer you her expert tasting notes and advice on pairings:
2017 Sauvignon Blanc:
A pale, silvery, straw appearance, light aromas of grapefruit, lime and citrus rinds with hints of herbs provide an intriguing combination. Your palate will enjoy the crispness that lends itself to a refreshing summer wine.
This wine pairs well with fish, shellfish, salads, cheeses, and warm sourdough bread. This young wine will surprise you with its nuances and sophistication. - Always5Star
2017 Parlez Vous Rosé:
An intense, garnet hue with notes of strawberry, watermelon, orange, hibiscus and hints of floral aromas. The wine embodies a sweet and fruity taste with moderate acidity. It lends itself perfectly for a summer picnic or beach party. Tip: You will want to serve this cold as it maximizes the flavors and your enjoyment.
This wine pairs well with spicy brash flavors. I suggest enjoying this with fresh spicy sushi selections. Ahi tuna would be an ideal pairing. - Always5Star
🌟 Location
39730 Calle Contento, Temecula, CA 92591 Open from 11 am - 5 pm
Final Thoughts:
Temecula Valley Wine Country is a Southern California gem. If you're looking for a place to escape life's stresses or your kids, then book a trip to Temecula now! There are plenty of fabulous wineries to enjoy while there, but do not miss Akash Winery! Enjoy great wine, beautiful art, and maybe even a game of Jenga!
Cheers to your Always5star experience at the Akash winery! 🌟🌟🌟🌟🌟