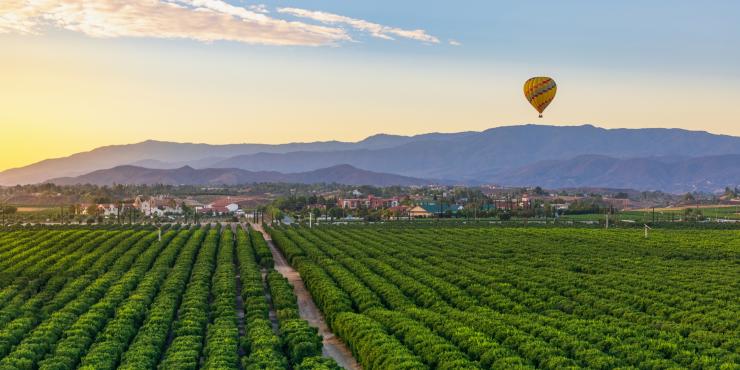 Whether dancing to the blues in Old Town or floating in a hot air balloon over the vineyards, Temecula is a dream destination during the Spring. Wisteria blooms are a stunning indication that Spring has finally arrived, and the highly anticipated "bud break" in Southern California Wine Country signals the birth of a new growing season.
Many of Temecula Valley's wineries, restaurants, and businesses will host a variety of activities and events for all ages. Visitors can enjoy historic Old Town Temecula, spectacular golf courses, al fresco dining, wine tours and tasting, swoon-worthy sunsets, and many outdoor recreational activities.
As the season comes into bloom, guests can sip and savor everything the Temecula Valley has to offer. Here are seven suggestions:
Up, Up and Away at the 40th Annual Temecula Valley Balloon & Wine Festival
The Temecula Valley Balloon & Wine Festival runs from May 19-21 and will offer three days of hot air balloon flights, exquisite local wine, craft beer, and top-name entertainment including Brad Paisley, REO Speedwagon, Scotty McCreery, Night Ranger, Sara Evans, and more. Guests can enjoy hot air balloon flights over Lake Skinner in the early morning hours (rides subject to weather conditions). An evening Balloon Glow, held both Friday and Saturday night under the stars, features tethered balloons dancing and glowing to live music. More than 100 vendors and fair-inspired food will also be available.
Fabulous Thunderbirds to Headline Temecula Blues Festival
The Old Town Blues Club will host the wildly popular Temecula Blues Festival on Saturday, April 15 on the steps of City Hall in Old Town Temecula. The festival will feature eight great blues bands performing throughout the day including the Fabulous Thunderbirds, Len Rainey and the Midnight Players, Bonita and the Blues Shacks, Susan Santos, and more. Several food vendors and a merchandise market will also be on site.
Sixth Annual Craft Brew Month Celebrates Temecula's Growing Beer Scene
Well known as a premiere destination for wine lovers, Temecula's brewpubs have become a must-stop for beer lovers, as well, with nearly 20 breweries, meaderies, and distilleries to choose from. Visit Temecula Valley's sixth annual Craft Brew Month will be celebrated throughout the month of May with a variety of specials, featured flights, and an opportunity to chat with the brew masters who've put Temecula on the map as a beer destination. It is recommended that beer-loving visitors plan a mid-week, two-night stay for the best experience.
Channel Your Inner Cowboy (or Cowgirl) at The Stampede's Old Town Music Fest
The Stampede, the West Coast's largest country music venue, boasts a 4,000 square-foot dance floor that offers plenty of room for line dancing, two stepping, or any style. Line dancing classes are provided for guests every Friday at 6:30pm. On Saturday, June 17, The Stampede will host the Old Town Music Festival with popular guests Big & Rich, Eddie Montgomery (of Montgomery Gentry), Creed Fisher, Coffey Anderson, Runaway June, Cowboy Troy, and more.
Attention Classic Car Aficionados: Temecula Valley Rod Run Begins May 5
Definitely a dream come true for classic car aficionados, the highly anticipated Temecula Rod Run will be held on Friday and Saturday, May 5 and 6. The event will kick off with the famous "Friday Night Cruise," with hundreds of classic vehicles from all over the country cruising on Old Town Front Street. On Saturday, the vehicles will be lined up on the streets of Old Town for a closer look and an opportunity to chat with their owners.
Spring into Live Entertainment in Southern California Wine Country, Pechanga Resort & Casino
Wilson Creek Winery offers pristine grounds, beautiful vistas, and a great venue for live music, with several nationally known acts performing throughout the Spring and Summer. Craig Morgan, gifted singer/songwriter and Army veteran well-known for his number-one hit "That's What I Love About Sunday" as well as "The Father, My Son and the Holy Ghost" and "Almost Home," will perform on Thursday, May 25. For more information and tickets, visit www.wilsoncreekwinery.com.
The award-winning South Coast Winery Resort & Spa kicks off it Rhythm on the Vine concert series on May 4 featuring country music singer/songwriter Hunter Hayes on May 4. The Gin Blossoms will take the stage on July 29; several additional performances will be announced soon.  
From rock and pop to jazz and country, Pechanga Resort Casino offers an elite assortment of headline acts and concerts each week. The Spring lineup includes America, Kenny G., Ringo Starr, Diana Ross, and more. For more details and to purchase tickets, go here.
For continuously updated information the best things to do in Temecula this Spring, check the Events calendar at www.visittemeculavalley.com.